DVCx – Our TED style event – Friday, November 13th
Our 9th grade students will be putting on a DVCx event (TED style talks and presentations) on Friday, November 13th during school.  This great event is open to all parents and community members – come check out students' performances!
DVCx – Inspiring Talks and Demonstrations
Friday, November 13th
Del Aire Gym
Session 1 / 11:00 – 12:10
Session 2 / 1:05 – 2:15
More details coming soon . . .
Thanksgiving/Winter Break Job Opportunity
Want to earn money and contribute to our capitalist machine? Old Navy is looking for seasonal help (Black Friday), and would love to recruit some of our students for part-time (paid work).  There will be an information meeting in Mr. Barclay's classroom Monday, November 2nd at lunch
Exhibition – November 19th
Exhibition will take place on Thursday, November 19th. Students will be showing off their project work from this semester, including non-profit companies, persuasive speeches, video games, murder mysteries and more!  As is the case each semester, all students are expected to present at exhibition and attend the full event in professional attire.
Thank You!
Thank you to Kim Young for organizing and everyone for showing up to Family Dinner a couple weeks ago – we raised some nice money for college field trips this year, which will be happening in January and February!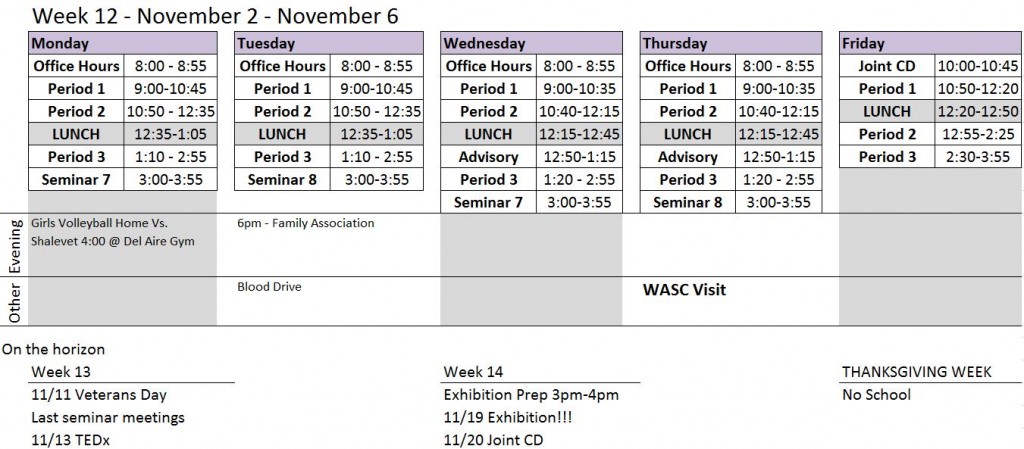 This announcement was a great reminder for me that the Week 11 announcement was never posted, quite sorry about that, always feel free to yell at me anytime for my oversights via email or in person. – Nathan