Multicultural College Fair
FREE annual Multicultural College Fair being held at Vistamar High School on Sunday, October 23, 2016 from 2-5pm. There will be several colleges in attendance, and students will have the opportunity to go to the various tables and ask questions.
In addition, there will be breakout sessions/workshops on:
-Financial Aid, including one session conducted in Spanish
-Conducting a creative college search
-The benefits of a HBCU (historically Black college or university) experience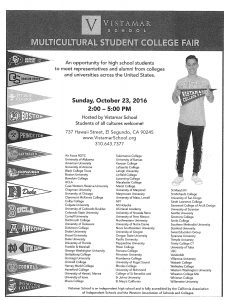 FAFSA Workshop #2: Wednesday, November 9th at 5:30PM. Please apply for an FSA Pin before the workshop and bring your 2015 Tax Returns. 
Sign up for the FAFSA workshop here: https://goo.gl/forms/g5R8WskAPVgBXLtI2