Winter Break
We hope all of our students and families have a relaxing and fulfilling winter break. Students have three weeks off, and return on Monday, January 9th.
Sex Ed
We will be beginning our annual sex-ed lessons in advisory in January. This year we are doing opt-out forms instead of permission slips. If you would not like your child to participate, please either complete an opt-out form we will give to students the week we return, or reach out to your counselor.
ACT Prep
Juniors and Sophomores – we are offering a greatly discounted ACT prep course after school this semester. The course runs for 2 hours twice per week during February and March, and will prep students for the April ACT course. Register with Brittany when we return from break!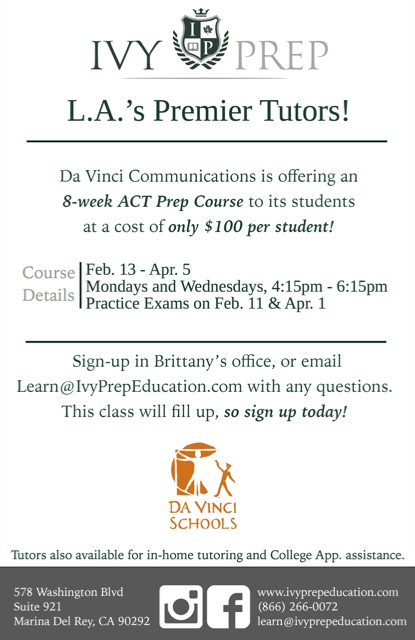 Spring Musical!
"Hey Da Vinci Students! Next year's spring musical is going to be… GREASE!!! Auditions will be the first week that we come back after the winter break. If you are interested, text @dvgrease to 81010. We'll send you all the info there. Hope you can join!"