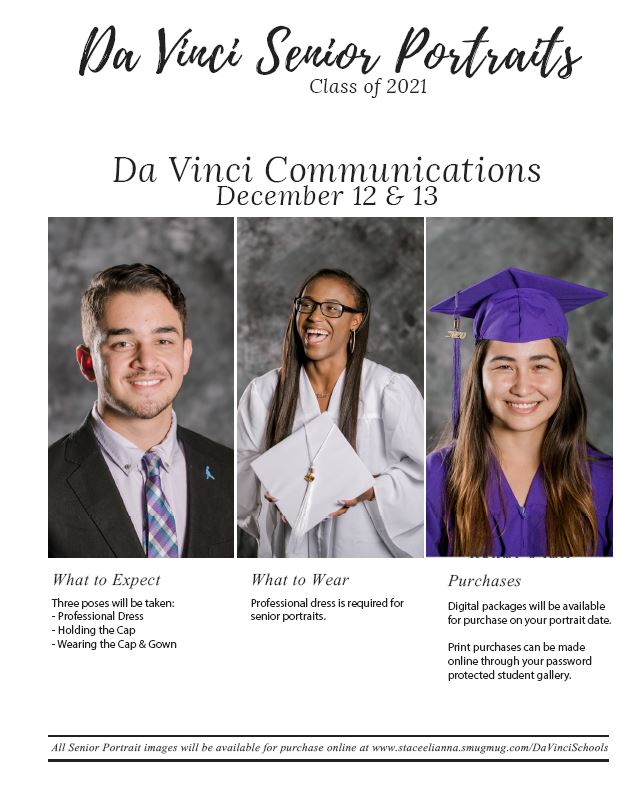 Dear DVC Families of the Class of 2021,
We are excited to share with you the details of an important way to commemorate this important year: Senior Portraits! We have partnered with Stacee Lianna Photography to provide you the opportunity to get professional cap-and-gown photos to share with family and friends. 
For DVC, the photos will be taken on Saturday, December 12th and Sunday, December 13th from 10:00am – 3:30pm at the Da Vinci Campus (201 N. Douglas St.). Please sign up here for an appointment. The appointment to take the photos is free of charge, and families will have several options to purchase digital or printed images. You are able to pay for the digital images at the time of the appointment, and you are able to purchase printed packages when the photos are available online. For information about pricing, please read this flyer. All senior portraits will be available for purchase at this website: Da Vinci Schools – StaceeLianna
We want each student to receive their cap and gown prior to the appointment. As such, we have scheduled a cap-and-gown pickup for Wednesday, December 9th from 2pm to 4pm. We will be providing you with more details as the date approaches, but please mark your calendars now.
To summarize, here are the important dates and next steps:
Cap-and-Gown Pickup is Wednesday, December 9th from 2pm to 4pm
Senior Portraits are Saturday, December 12th and Sunday, December 13th; make an appointment at tinyurl.com/senior-photos-DVC-2021
If you have questions regarding the portraits and the packages, please contact Stacee at seniors@staceelianna.com.