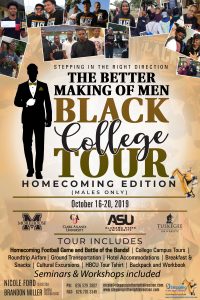 Join Stepping in the Right Direction and the Better Making of Men on the "Males Only" Black College Homecoming Tour October 16-20, 2019
Our purpose is to encourage our young men of color to believe they can achieve and obtain academic excellence, learn to lead and follow and to value service and respect others.
Young men will participate in life skills, leadership development, financial literacy, and entrepreneurship workshops while attending the Historically Black College & University Tour and experiencing the Morehouse College Homecoming Weekend!!