ACT Prep
Juniors and sophomores – we have two ACT prep options which would be extremely valuable for your preparation for college entrance exams. Check out each of these two options below, and if you are in need of a scholarship, please just get in touch with your counselor to apply for one.
ACT Prep After School at DVC
Come join a greatly discounted ACT prep course here at DVC after school on Tuesdays and Thursdays. This course will be excellent preparation for the April 8th ACT, and includes full proctored practice exams on Saturdays to help you practice in a testing setting. This class is highly recommended to juniors who want to raise their ACT scores to open up more college options when you apply to colleges in less than a year!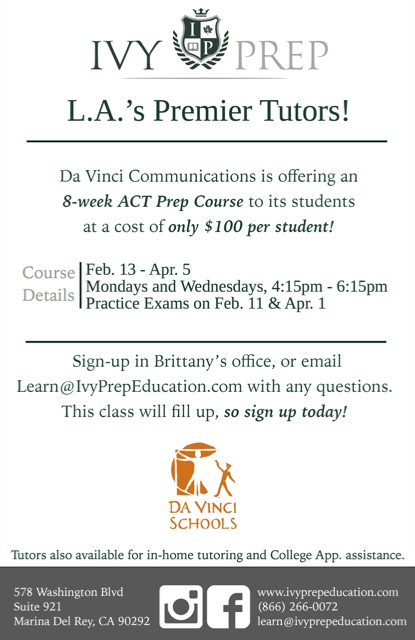 Saturday ACT Prep Through Watts Learning Center
The Watts Learning Center is hosing a Saturday ACT prep course as well. It just started this past Saturday, and we are waiting a call back to see if there is still space available, but if this option is closer or works better for you, please feel free to reach out and call them about availability!
Senior Photos and Makeup Photos – Friday, February 10th
Seniors! Remember that Friday, February 10th you will be taking photos in a cap and gown (provided day of) for the yearbook! Come ready to take your yearbook photo that morning.
If you missed the first photo day of the year, you will take your photo this day as well.
Photos will take place between 9:00am and 10:45am, and we will have exact time sign-ups soon.