Tomorrow is the Blaze pizza fundraiser for The Vitruvian Post. 20% of the proceeds from your food purchase tomorrow will go towards our funds to attend the Spring National High School Journalism Convention. To learn more about the convention you can visit http://anaheim.journalismconvention.org/
All that you need to do is either take a printed copy of the flyer or show this copy on your phone to ensure that the money goes towards the convention.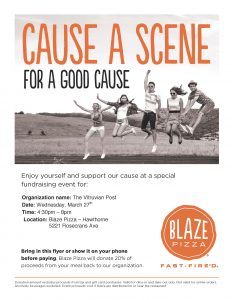 We appreciate your support! You and your students can check us out at:  www.vitruvianpost.com  We will be publishing every day over the next couple of weeks.
-Vitruvian Post Students