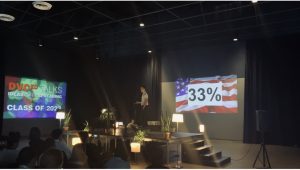 We are still in awe thinking about the DVCed Talks that were given last week by 24 9th graders at Da Vinci Communications. The short, powerful talks were modeled after the popular TED Talks, designed to inspire ideas, creativity and conversation around a wide range of subjects.
DVC students shared personal, bold and brilliant ideas about stereotypes, tolerance, LGBTQ rights, confidence, equal pay, death with dignity, kindness, school shootings, sexual assault, teen stress, and much more.
Freshman Micah Session spoke about whether money can buy happiness. "I often find myself asking the all important question — Am I happy?" And even if the answer is usually yes, the fact that I have to ask that question in the first place just feels sort of wrong to me. I mean, why should you need to ask if you're happy? Shouldn't you know that without thinking about it… Why are so many people in this world unhappy?" Students asked these and other powerful questions about life, love, community and more.