Community College Course Opportunities 
We are encouraging all our Juniors and Seniors to sign up for college courses at Da Vinci, through El Camino and West. L.A. Community Colleges. These Courses meet transfer requirements for all Cal State and U.C. campuses, as well as most private colleges and universities.
Please click on the links below to sign up and for more information!
Dual Enrollment_Student Packet_2018
Events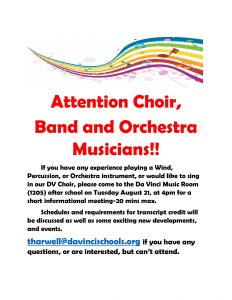 Seminars
9th and 12th graders will be signing up for seminars on Monday at lunch and after school in the main common area on the DVC floor. 10th and 12th graders will be signing up Tuesday at lunch and after school in the same area. Please see this document for a description of Fall seminars at DVC: DVC Fall Seminars
WEEK 2 BELL SCHEDULE

LUNCH MENU