SPORTS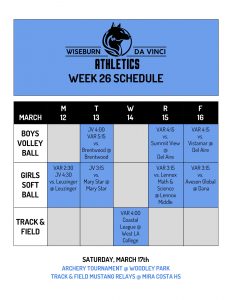 VOLUNTEERING OPPORTUNITIES
Wiseburn Education Foundation's annual Family Fun Day, Rock Around the Block, will be held on March 24th at Dana Middle School. The biggest fundraising event for the year includes rides, games, silent auction, prizes, food and amazing musical performances by our students. For the best value, order your tickets before March 19th at:
WEF is  holding an online auction prior to Rock Around the Block. The online auction is now open and closes this Sunday, March 11th at 9pm. Click on the link here to view the extensive selections of goods and services from local merchants and create an account to register to bid.
Proceeds from the auction benefit visual and performing arts education, healthy lifestyle programs, teacher grants, STEM activities and DaVinci High school program grants. Shop and bid to help support our Wiseburn/DaVinci schools!
SUMMER INTERNSHIPS
Applications are now open! Go to the 

www.dvrealworldlearning.com/internship-opportunities.html

 to see the available opportunities and descriptions. Students can also go to the 

Resources

 tab to get help with their Resumes and Cover Letters. All applications are due on Friday, April 13.  
  Internships last for 6 weeks in the summer and students will receive school credit for the internship.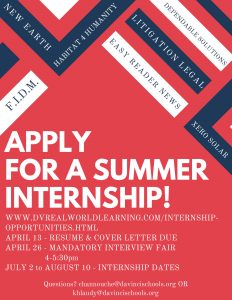 SCHOOL EVENTS
The event will be held on Campus in the Black Box Theatre on Thursday, March 15th. It will be from 6:00 pm until 9:00 pm. Tickets are $10 and are still available to purchase through the Leadership Committee.
WEEK 26 SCHEDULE 


WEEK 26
Monday 3/12
Tuesday 3/13
Wednesday 3/14
Thursday 3/15
Semi Spring Formal Dance
Boys' Volleyball Home vs. Summit View
Friday 3/16