Exhibition Week!
Exhibition is tomorrow, November 19th from 6pm to 8pm
Come see your student presenting some of their great projects from this past semester. All students and a family member are expected to attend.
We will have food this year at exhibition!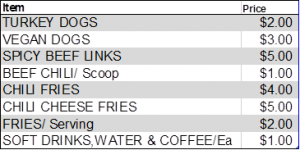 Upcoming Dates:
• November 19th, 6pm to 8pm: Exhibition
• November 24th – 28th: Thanksgiving Break. Classes resume on December 1st.
• December 2nd, 8am to 9am: Coffee with the Director
• December 2nd, 5pm to 6pm: Parent Workshop – developing effective high school study skills
• December 5th: TEDx in the Del Aire Gym
Celebrations and Latest News:
• We will be creating a site council for DVC.  This site council will be in charge of identifying areas in which we can support struggling students and establishing methods for supporting them using Title 1 funds.  We will have 3 parents and 3 students on this council, in addition to teachers and staff members.  If you are interested in nominating yourself or another parent for the site council, please email Nathan.
• The 9th grade is finishing up their TEDx talks and lighting structures – come check them out at Exhibition. They also just took a trip to All Access Staging and Productions, and saw professionals using the same Computer Design software they are learning in Meredith's engineering course.
• The 10th grade just came back from a field trip to the very trendy offices of 72andSunny, and presented their TRUTH Campaign work to the people in charge of running the campaign. Presentations were all high quality, and everyone at 72andSunny was impressed with their work. Congratulations 10th graders!
• A HUGE thank you to all parents, staff and students who made our Black and White dance a huge success this past Friday. So many parents were especially key, and this event would not have happened without your leadership and efforts. Thank you!