Exhibition in 2 Weeks!
Join us for exhibition on Wednesday, November 16th from 6pm to 8pm! Remember, all students are expected to attend exhibition and be dressed professionally showing off their great work – you should have already made alternate plans with teachers if your family will be out of town of if there is another family emergency.
Exhibition Night
Wednesday, November 16th, 6pm – 8pm
Da Vinci Communications Campus – enter through the back gate to skip the line out front (which is for DV Design information)
School Pictures
School photos are available for purchase online:
https://staceelianna.smugmug.com/DaVinciSchools/DVC-2016-Picture-Day
Students are sorted by advisory, and the password is your advisory teacher's name (case sensitive, for example "Andy").
Your kids are changing fast! Buy the photos today!
Red Carpet Ready Dance – Today (Friday)
Red Carpet Ready Dance
Friday, November 4th, 7:00pm to 10:00pm
Lawndale Community Center
Reminders from the Counselor
Students selected to participate in the 
2016-17 UCLA Riordan Programs Saturday Business Institute (SBI) are expected to attend the first meeting this Saturday, November 5th, 2016 at 9am. The first meeting will take place at DVD in room 205. 
FAFSA Workshop #2 for Seniors will take place this upcoming Wednesday, November 9th at 5:30PM. Please apply for an FSA Pin before the workshop and bring your 2015 Tax Returns. 
Sign up for the FAFSA workshop here: https://goo.gl/forms/g5R8WskAPVgBXLtI2
Although 9th, 10th, and 11th Graders don't have to fill out the FAFSA just yet, it's always a good idea to start planning early. Take a quick look at the Financial Aid 101 and Financial Aid Myth vs. Truth forms below. Here are some important things you should know about financial aid and some great tips!
Juniors it's almost time to register for the ACT/SAT, take a look at the upcoming test dates and registration deadlines.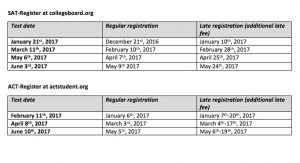 College Night @ El Camino on 11/16. They will have workshops in Spanish and English along with fun games for students and parents. RSVP link is located on the flyer.