Graduation
We will be holding our first ever DVC graduation on June 6th at 8:00pm! The graduation will take place at the El Segundo High School Auditorium – all details below, and in the senior events document as well:
Senior T-Shirts and Hoodies Now Available!
https://www.booster.com/dvc-classof17
Class of 2017 T-shirts = $20
Class of 2017 Hoodies = $35
Last day to buy is Thursday, March 30.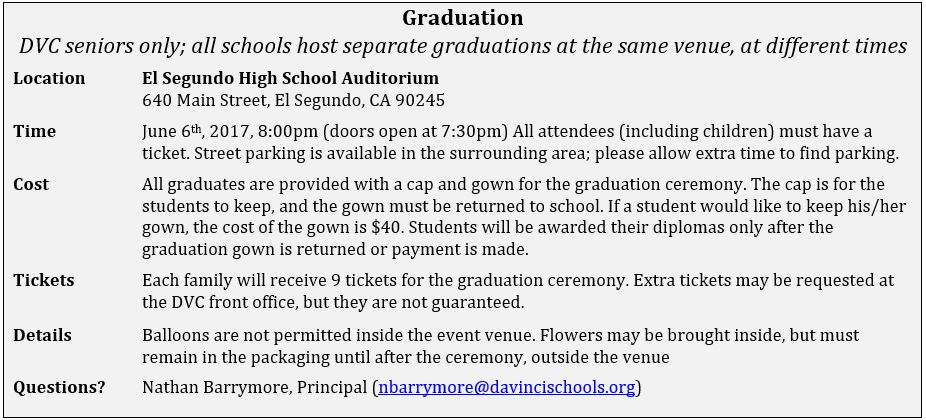 SAT Prep Course
We have a new after school SAT prep course to prepare for the June 3rd SAT.  This will be an incredibly valuable test prep option for juniors or sophomores who want to raise their SAT scores and make themselves more competitive in their college applications. This course is a big time commitment (2 hours twice per week), and that is part of what will make it so valuable come test day.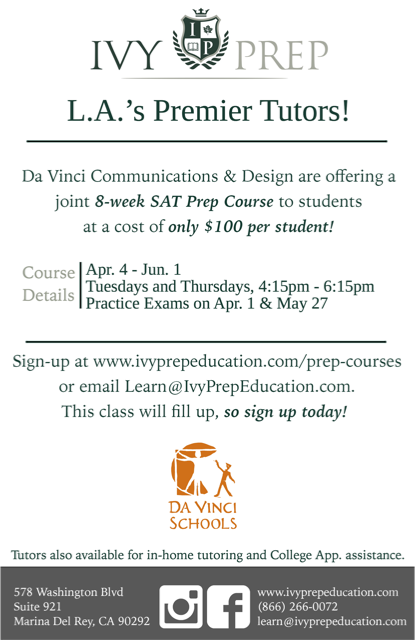 Annual Giving
The 2017 Annual Giving Challenge Is On!
Donate or Pledge by April 30 and Your Gift Will Be Doubled!
There's never been a better time to support Da Vinci Schools! Thanks to the extraordinary generosity of Belkin, Northrop, Chevron, Gensler, 72andSunny, Kinecta Federal Credit Union, and Continental Development, all gifts to the Da Vinci Schools Annual Fund will be matched dollar-for-dollar, up to $75,000.
Make your donation or pledge by April 30 and your gift will be DOUBLED.
Every gift makes a difference. Please consider making a tax-deductible gift or pledge today by clicking this link (http://www.davincischools.org/makeagift.shtml). We thank you!
Job Fair
The Blueprint for Success Job Fair will be taking place on Thursday, April 27th from 9:00a-12:00pm at 801 E. Carson St, Carson, CA 90745.  If you are interested in signing up, email Natasha Morse (nmorse@davincischools.org), our Real World Learning Coordinator by April 18th.  Transportation will be provided.
Internships
The American Red Cross has a summer internship designed to provide students the opportunity to gain leadership, communication, and practical skills in a professional setting and in their areas of interest, while serving their communities. The program gives the American Red Cross the ability to better fulfill its mission and services to the community by benefiting from the skills and dedication of a committed group of student interns.  Their online application is due by April 10th.  Please inform Natasha Morse (nmorse@davincischools.org) if you receive this internship, so she can connect with you to get summer internship credit.
Dates/Length: June 12th – August 11th
Location: Interns can work in any of the Los Angeles Region chapter or blood services offices* including Arcadia, Canoga Park, Long Beach, Pasadena, Pomona, and West LA. *Dependent on supervisor location.
School credit and service hours: All internships through the program are unpaid; however, academic credit can be given if applicable to an intern's situation. Students can also fulfill community service requirements through their participation in the program. The program will be facilitated by Youth and Young Adult Services (YAYA), part of the Community and Volunteer Engagement Department.
Application Due by April 10th
INTERNSHIP POSITIONS AVAILABLE:
Biomedical Services Department: 
Blood Services Volunteer Coordinator Intern (Multiple Positions Available)- Long Beach, Pomona, Woodland Hills: Interns will be helping with scheduling, training, and other administrative duties. Key responsibilities will include but are not limited to: assisting with scheduling volunteers, checking for schedule openings, learning about the Blood Donor Ambassador position, learning how to conduct trainings, managing volunteer attendance, filling in at a blood drive when needed, and helping in recruitment efforts to grow the volunteer program.
Communications & Social Media Department:
Communications & Social Media Generalist (Multiple Positions Available)- West LA: Interns can expect to participate in communications operations under the supervisor of the Communications Manager & Director of Communications adding work experience to their portfolio in media relations, social media, writing and marketing. Interns will also develop creative materials for marketing and social media content.
Community Outreach Department:
Community Outreach Intern (Multiple Positions Available) Glendale and West LA: Interns will manage and attend community outreach events in underserved LA communities. They will learn how to talk about disaster preparedness with community members and how to obtain anecdotes to learn more about what barriers members face. Their final project will consist of creating a presentation based on photographic evidence and in-depth interviews with community members. *Please note: Interns required to have reliable transportation to travel throughout LA.
Disaster Cycle Services Department:
Disaster Cycle Services Intern (Multiple Positions Available) Arcadia, Long Beach, Canoga Park: The Disaster Services interns will assist in the programming for every phase of the disaster cycle (preparedness, response, and recovery). The interns will learn how to supervise and work alongside volunteers, care for victims of disasters, and provide resources for clients to aid in their recovery. Please note that availability requirement also requires evenings and weekends.
Executive Office Department:
Executive Office Intern-West LA/Pasadena: Intern will provide administrative support to the Executive office by becoming a volunteer partner for the CEO's Executive Assistant. Responsibilities include but not limited to creating PowerPoint templates for meetings, monthly expense reconciliation, and filing. Trainings will be provided as needed to succeed in the position. Intern must be comfortable with working with Microsoft Office.
Financial Development Department:
Financial Development Intern (Multiple Positions Available) – West LA, Long Beach, Pasadena: Interns will develop professional knowledge, skills, and abilities regarding the financial development department to assist with developing and implementing the new fiscal year fundraising strategy. All training will be provided on the job as needed.
International Services
International Services Intern-West LA: The International Services Intern will assist the department across many different programs and must be a quick learner who can adapt to new projects. Help coordinate the Refugee Welcome Project, assist with special events planning (documentary screenings, special guest speakers, manage RSVP's, etc.)
Restoring Family Links Outreach Intern-West LA: This internship will provide volunteer capacity building and outreach/awareness of the Restoring Family Links Program, working with refugees, Holocaust Survivors, and disconnected families. Interns will be responsible for creative recruitment strategies for volunteers in the different territories of the region, and concurrent outreach efforts as part of a team.
Services to the Armed Forces
Services to the Armed Forces Intern (Multiple Positions Available) West LA: Interns will support the new program at the West LA Veteran's Association, providing administrative support, event support/coordination, volunteer recruitment, and logistic (material) coordination in working with Veterans.
Volunteer Services Department:
Volunteer Services Intern-West LA: The Volunteer Services Interns will provide support to the overall planning, coordination, and management of projects within Volunteer Services and the volunteer management system, Volunteer Connection. VS Intern will learn the Volunteer Engagement Cycle and support departments in developing volunteer positions, recruitment, and improving the volunteer onboarding process
Youth and Young Adult Services Intern (Multiple Positions Available) -West LA, Long Beach:. Interns will manage volunteer intake for youth under 18 and update records in the Red Cross database (Volunteer Connection). Interns will help support the planning and implementation of the annual high school Leadership Development Camp, and will support youth events and meetings throughout the region.
Application and more information can be found here:
https://volunteerconnection.redcross.org/?nd=vms_public_form&form_id=954