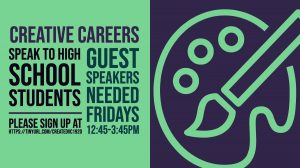 Hello DVC Families,
Please see below for an opportunity for parents/guardians, family and community members to visit DVC as a guest speaker to discuss your career in efforts to expose students to different careers in the community!
WHO: Anyone with a career. YOU!
WHAT: A brief presentation or discussion (10-15 minutes), followed by Q&A with 10th-grade students about your career.
WHERE: Da Vinci Communications High School, 201 N. Douglas, El Segundo, CA 90245
WHEN: Fridays between 12:45-3:45pm. We are asking for a minimum commitment of 1 hour, but you are very welcome to stay longer!
WHY: To expose students to different careers in the community. To emphasize how creativity impacts all careers, no matter the industry.
QUESTIONS?:
What do I need to prepare or bring?
Just yourself! Some guest speakers in the past have prepared a PowerPoint or Google Slides presentation to support their discussion, but this is certainly not necessary.
How long do I need to speak to students?
As long as you would like! We are asking for a 1-hour commitment, which would allow you to speak to two different classes of 10th-grade students for about 10-15 minutes each, followed by a Q&A session of about 15 minutes. However, we would love if you're able to stay for a longer period of time. Students often have many questions about your career and the Q&A section can easily extend beyond 15 minutes.
What should I talk about?
Attached is a handout that we give students to support them in asking questions (Graphic Organizer for Guest Speakers.) It's a good guideline for what you might be asked. Keep your presentation short: a brief description of what your career is, your educational/training background, what you enjoy about your career. Students are much more engaged in a back-in-forth dialogue than they are listening to a presentation.
More questions? ningram@davincischools.org Sign up here: https://tinyurl.com/CreateDVC1920