Pathway Focus: Computer Science
Over the last few weeks students in our new Computer Science Pathway have been hard at work creating Android apps. Now, they are ready to unveil their projects to the world! On Wednesday, October 12th, the pathway will be hosting the first ever DVC Computer Science App Showcase.
The App Showcase
Wednesday, October 12th
6:00 – 7:30 pm
Da Vinci Communications Classrooms
During the culminating event, select groups in the Computer Science Pathway will present their apps to the audience. They will also take questions from the audience about the design, user experience and programming of their apps. After the presentations, the audience will have the opportunity to test drive the apps.
We hope you will join us!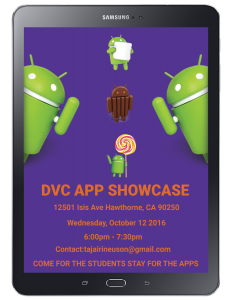 Old Navy is Hiring Da Vinci Students for the Holiday Season!
Old Navy is Hiring Da Vinci Students for the Holiday Season. If you are interested in working there during the holiday season, come to an information session:
Tuesday, Oct. 11th in Mr. Barclay's Room (Design classroom by the front of campus) at LUNCH
What? Old Navy is hiring Da Vinci students who are 16 years or older to work during Black Friday week.  Students may be asked to stay through the holiday season based on performance and need.  You must be eligible for a work permit to apply – that means no "Is" and no attendance or behavior contract issues.