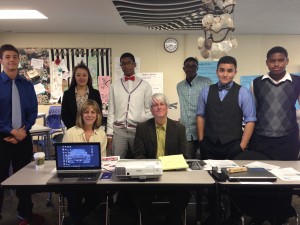 "Our product is unlike any other!" was a remark heard many times this morning from freshmen students at Da Vinci Communications who pitched their business ideas Shark Tank-style in front of a panel of industry professionals.
Working in groups of four, the students developed marketable products using sustainable energy and/or eco-friendly materials. During their development they used the Design Process to plan, create, and execute their ideas. Some of the pitches included solar paneled cell phone cases to charge dead batteries, wifi bracelets, recycled post-it papier-mache sculptures, and a remote-controlled solar powered car made from recycled materials just to name a few.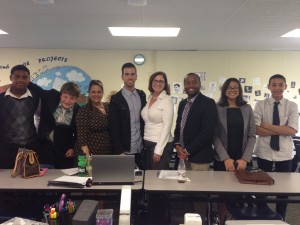 With their products and business plans created, the students pitched their ideas for a total of 15 minutes to  industry experts consisting of Debra Bronow (The Bronow Group), Becky Dawson-Marble (Literacy Specialist), Lourdes Del Rio Valdes (DRV Public Relations), Davion Lewis (California Charter Schools Association), Julie Weitz (Carol Mendelsohn Productions), and Sean Williams (DVD Your Memories). At the end of the presentations, each panel member asked probing questions and offered suggestions to the students on how to further their products.
Job well done to all our future entrepreneurs and thank you very much to all our panel members for your time and constructive feedback!! A special thank you also to Sean Williams, Roel Uleners of XPLANE , and Russel Wohlwerth of External View Consulting Group for providing inspiring business challenges and advertising strategies to help students initiate their projects.  Weitz, Williams and Uleners also serve on Da Vinci Schools' Board of Regents. Each of them has extensive experience evaluating business pitches and projects in their respective fields.
(Editor's Note:  Kassandra Castellanos is a 2013 graduate of Da Vinci Science. She works part-time in the enrollment, communications and development office while pursuing her bachelor's degree at Cal State Dominguez Hills.)