Congratulations on POLs so far!
Students have been impressing their teachers this year with POLs across all grade levels! I had the chance to be on the senior POL panel for the first half of the presentations, and I am so proud of our seniors' presentations – you are confidence and capable presenters (besides really showing off your in depth content knowledge), and have grown so much these past three and a half years!
Teacher and Staff Appreciation Lunch: Tuesday 12/13!
Parents: Mrs. Hudshon (11th grade parent) has generously offered to organize a lunch for teachers and staff this coming Tuesday at 12:00pm. If you would like to contribute any food or help out, please email Mrs. Hudshon at mrshudshon@aol.com.
Thank you to all our parents for raising such great children, and for your support here at school!
Final Week's Schedule
Next week is the last week of the semester. We will be running POL schedules on Monday, Tuesday and Wednesday, then we will start at 9am on Thursday for a minimum day schedule where students go to all classes.
Most students will have finished their POLs by next week, so we have different lesson plans for each grade level to make these days valuable for everyone. Here is a preview of the topics covered:


Project Pitch Panel – An Invitation
Parents – do you work in an industry that will one day employ our future DVC graduates? I want to invite you to help shape Da Vinci curriculum at our Project Pitch Panel on Wednesday, January 4th from 9am-12pm.  At this event, teachers will present their project ideas to industry professionals and seek advice on real world connections, student engagement, software, and a range of other topics.  You will be able to interface with innovative Da Vinci teachers and other industry partners.
It really takes a community to make sure school is relevant – your critiques, suggestions, and creativity will be incredibly helpful to ensure the delivery of real-world curriculum.  Help shape the future workforce and inspire teachers!
Please pass along the invitation to others and bring members of your team.  RSVP to Natasha Morse at nmorse@davincischools.org if you would like to attend and see the attached flyer for more information.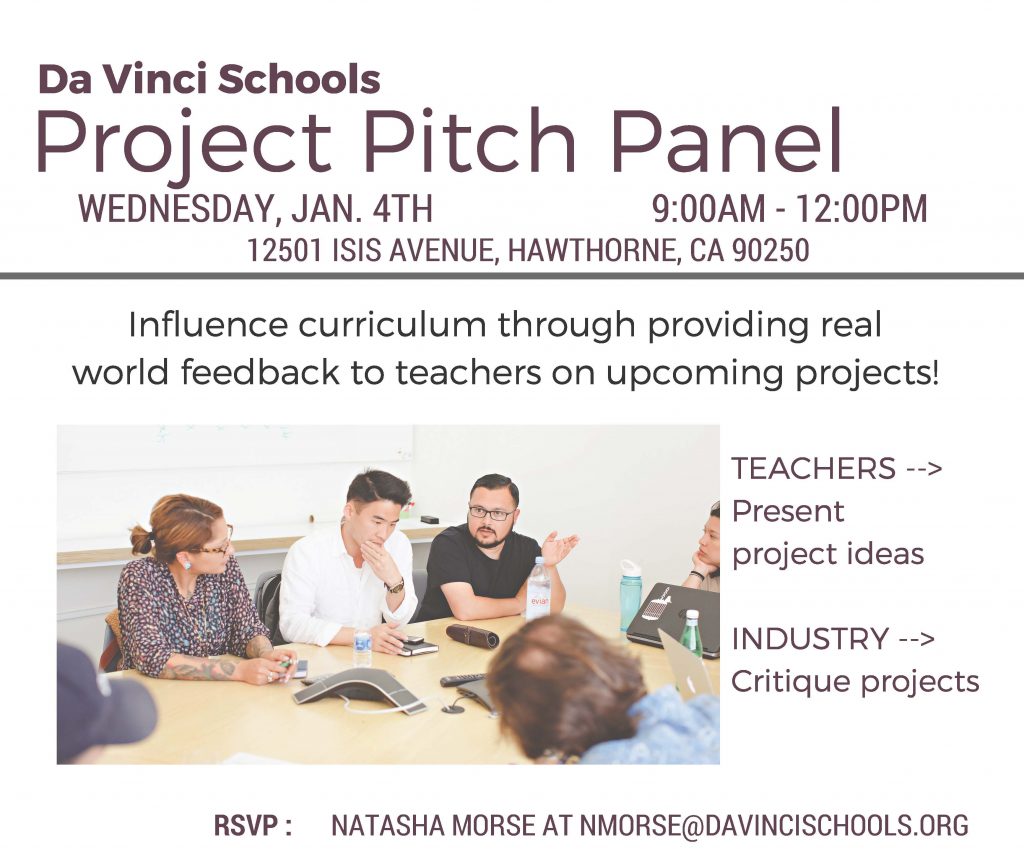 Yearbooks!
Parents, relatives, and friends:
Soon it will be time for graduation. The DVC yearbook is your chance to show that special student how much you care by personalizing his or her book in a very special way.
Full-color yearbook recognitions come in many forms and are one of the most popular sections of the yearbook.
Celebrate a graduating senior, a special achievement, or a group of friends!
Purchase yours today at the following link: