POLs
POLs begin this Wednesday! Remember, all students are expected to be at school from 8am to 12pm, unless they are scheduled in the smaller afternoon group (in which case they should be at school from 12pm to 3:30pm). If you have questions about which group your child is in, please ask them and then remind them that this essential knowledge should be shared with you much sooner.
If students are not passing any classes they are required to stay the entire day to improve their grades. Teachers will be available for guidance and feedback after lunch for around 45 minutes, at which point they will then resume watching POLs. Once students are passing all of their classes they can head home early.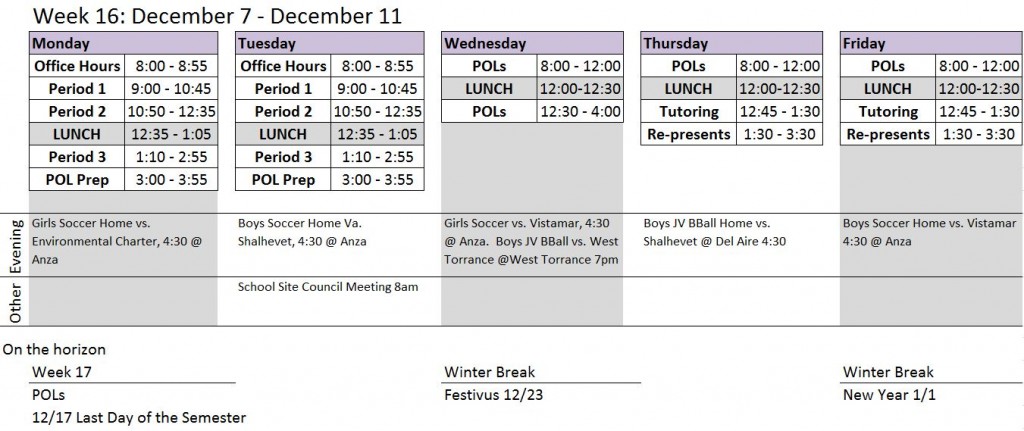 Annual Giving Campaign
Please consider joining Da Vinci families and staff in pledging their support to Da Vinci Schools by joining our Annual Giving Campaign! http://www.davincischools.org/makeagift.shtml
Thanks to the extraordinary generosity of Chevron, Belkin, Northrop, and Kinecta, all donations to the Da Vinci Schools Annual Fund will be matched dollar-for-dollar, up to $50,000. This matching challenge is only available for a limited time. Make your donation or pledge by March 31, 2016 and your gift will be doubled. All pledge payments must be received by June 1, 2016 to be eligible for the match.
Dollars raised through the Annual Fund benefit every K-12 student by providing hands-on curriculum for every age level, a $1,000 materials budget for every teacher, innovative educational technology, and the day-to-day operating expenses that are not funded by the state of California.