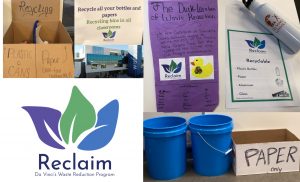 By Jordan Pruitt ('21) and Ethan Barragán ('20)
The students of the Da Vinci Communications Strategic Communications pathway just launched a new marketing campaign, Reclaim, to help our community reduce waste. Our mission is to show how the initiative will not only help our Da Vinci community be more environmentally conscious and friendly but also bring all three schools in our building together to help waste reduction. The unifying tagline expressed in all of the Reclaim marketing material is "Stay Green. Stay Clean. A New Da Vinci."
Why is this important? According to The World Counts, we produce 2.12 billion metric tons of waste globally each year. When we discard our waste into landfills, the items found most are actually recyclable materials. 32.2% of the material is plastics and cardboard, which can be recycled.
The U.S alone throws away 30 million tons of plastic each year. There are 335 million tons of plastic produced globally and 91% of plastic is not recycled. The global plastic production is expected to triple by 2050. Twenty-one percent of landfills are composed of compostable materials. The U.S wastes resources like calories from excess food, water, farming fertilizer, cropland, etc. We could generate $218 billion from the food discarded, according to ReFED. Clearly, the US could save money, and our ecosystem, if we properly disposed of recyclables and reduced waste. It is also mandatory: in 2012, the California Assembly passed AB 32, the Mandatory Commercial Recycling bill, to reduce greenhouse gases by diverting commercial solid waste to recycling efforts and expanding opportunities for additional recycling services.
In the past, Da Vinci Schools has not made it a practice to separate trash from recyclable items. Last spring, students measured 20 lbs of recyclable materials collected from one day of trash from DVC's floor alone. We also noticed that we as an organization use lots of paper, and rarely recycle it after we're done with its use. As part of Project Reclaim, we want to start fixing the problem now!