Families – reminder that we have a family meeting this afternoon. Come learn about ACT prep options, and the latest on the move to the new building for the upcoming 2017-18 school year!
Family Meeting
Today, Tuesday, February 7
5:30pm
Eynon's Room 101.
Junior and Sophomore Families: We will have representatives from Ivy Prep to talk about ACT prep and outline the ACT prep course we are offering here at DVC. We are offering an 8 week, 4 hours/week course which help students greatly increase their ACT scores and increase their college options. We highly recommend this course, especially for juniors. We suggest juniors who take this course register for the April ACT date as well to match up with course dates.
Sophomore Families: If you had sophomore-specific questions you were hoping to discuss, just come on by and Nathan will be available to chat in a smaller group after handing off the meeting to Ivy Prep at 6:00pm.
All Families: Want to learn about the new building? Nathan will be giving a general school update and specifically an update around the move to 201 N Douglas for the 2017-18 school year.
Internships
Students – you can start applying for summer internships starting in March – be on the lookout for internship announcements over the following weeks.
Summer 2017 Internship Timeline Eligibility Flyer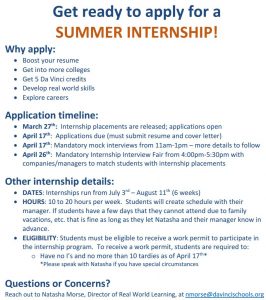 Spirit Week!
Next week is Spirit Week! Get ready to dress up and show your DVC spirit!