On the week of the 24th, Brittany will be running small group family meetings for all seniors. This will be the time to talk about their final list of schools, college applications, and any other questions that you or they might have.
Please take a moment to sign up for a time slot. There are 2 different time periods (8am-9am or 9am-10am) throughout the week, each has about 7 slots available. Under available slots you will be able to see how many slots have already been filled.
Example: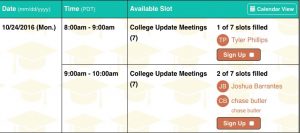 Slots are filling up quickly so sign up soon!