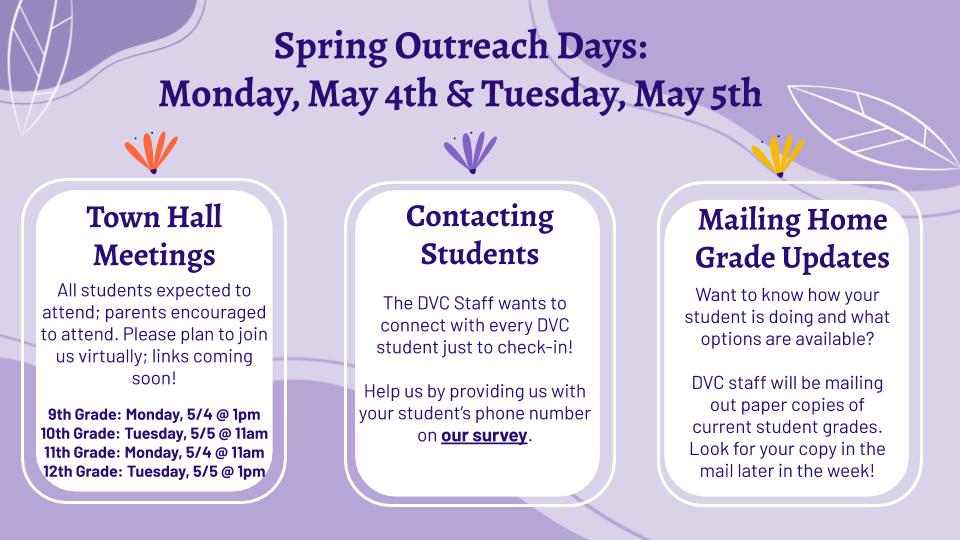 Hi DVC Community,
Thank you for your warm response to our plans for our Spring Outreach Days scheduled for this upcoming Monday, May 4th and Tuesday, May 5th! This is a follow-up regarding our plans.
Town Hall Meetings: As a reminder, students are expected and parents/guardians are encouraged to attend their Grade-Level Town Hall Meeting. Here are the dates, times, and links for these meetings. 
Monday, May 4th:
11:00am – 11th Grade Town Hall Link: https://zoom.us/j/97335761457
1:00pm – 9th Grade Town Hall Link: https://zoom.us/j/92940210003
Tuesday, May 5th:
11:00am – 10th Grade Town Hall Link: https://zoom.us/j/96620117628
1:00pm – 12th Grade Town Hall Link: https://zoom.us/j/91895314740
One of the many items discussed at this meeting will be the grading options available for each student. Please review these videos for more information, and please reach out to our school counselors if you have questions.
Contacting Students: On Monday and Tuesday, it is our hope to connect with each student for a few minutes to understand what their experience with remote learning at DVC has been so far. If you haven't already done this, please help us by completing this survey and sharing the best number at which to contact them. We have parent phone numbers, but we don't always have the best number at which to reach a student.
Mailing Home Grade Updates: We are using these days to prepare grade updates for you so that you can be sure to know how your student is doing academically at this time. Please check your mail for those by the end of the week. If you need to update your mailing address, please email Pattie Foxman at pfoxman@davincischools.org with your updated contact information. 
During these Spring Outreach Days, the expectations for students are as follows:
attend their grade-level town-hall meeting

respond to their teacher when they reach out

continue to catch up on any missed work. 
There will be no additional work given to students on these days, so students should use these days to catch up if they have fallen behind.
If you have any questions or concerns, please reach out to me. We are excited for this chance to connect with our DVC students and families in a new and virtual way!
Sincerely,
Erin D'Souza
DVC Principal