Hi DVC Parents & Friends,
There is still time to sign up for Staff Appreciation Food Bar that will be taking place next Monday. Please take a minute to look at our spreadsheet. Your support makes this exciting event possible! Please email us with any questions at sespana@davincischools.org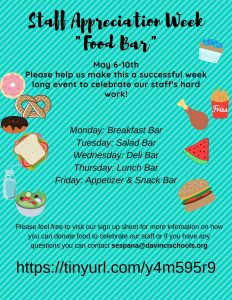 Please click https://docs.google.com/spreadsheets/d/1G9xPI1PSANV3fywRKLwTbV5ubkx-JXCUlY0X2rVoOKc/edit#gid=0 to sign up!