PSAT
Juniors, sophomores and freshmen will be taking the PSAT on this coming Wednesday, 10/19. Students in each grade level should be thinking about the test a bit differently, so please talk to your child sometime in the next few days about the PSAT and how it relates to their college planning:
11th grade (juniors): You are taking the official PSAT. This exam is used for the National Merit Scholarship competition, and this test should be used by you (and is used by colleges) to start finding schools which would be good fits for you. This test is the best predictor of your SAT or ACT scores, so review what to expect from the test over this weekend, and come Wednesday ready to take the PSAT. These are not the entrance exam scores used for college admissions – you must sign up for the ACT or SAT on your own for the actual scores colleges use.
10th grade (sophomores): You are taking the normal PSAT, but this round is to give you an idea of where your scores currently stand. Take this test as practice, both with regards to the content in the English and math sections, but also as practice in taking a structured 3 hour exam. This test replicates college entrance exams (ACT, SAT), so it is great practice so you are comfortable when you begin taking those tests.
9th grade (freshmen): You are taking a PSAT 8/9, a version of the PSAT for younger students. You should use this test as a preview of both the type of test (sitting down for a 3 hour test) and the content and question types.
Volunteer Opportunities
Students – make sure you get your volunteer hours in, primarily so that you contribute and give back to your community as part of being a great person. Secondarily, you must do your 10 service hours this semester in order to receive credit in advisory. Check out these opportunities:
Ongoing Volunteer Opportunities
Volunteer opportunities website
Pathway Celebrations!
Congratulations to students in all the pathways on their excellent work this past week! This past Wednesday the computer science pathway put on the DVC App showcase, where students showed off their apps designed in Android Studio, including an evening showcase event. Thanks to Eric, Andy and TJ for putting together all of the events!
After the event, Vitruvian Post reporters were on the scene interviewing the (student) app coders and designer, sourcing for their articles coming out in the next edition of the Vitruvian Post!
That same day, Strategic Communications was out at 72andSunny presenting their work and getting feedback and next steps from professionals (in their beautiful workspace).
We at DVC are so lucky to have teachers so committed and artful in their design of these pathway courses, for the industry professionals who have contributed to the design and execution of the curriculum and projects, and of course for our students who put all their energies into creating excellent products in their courses.
Week 10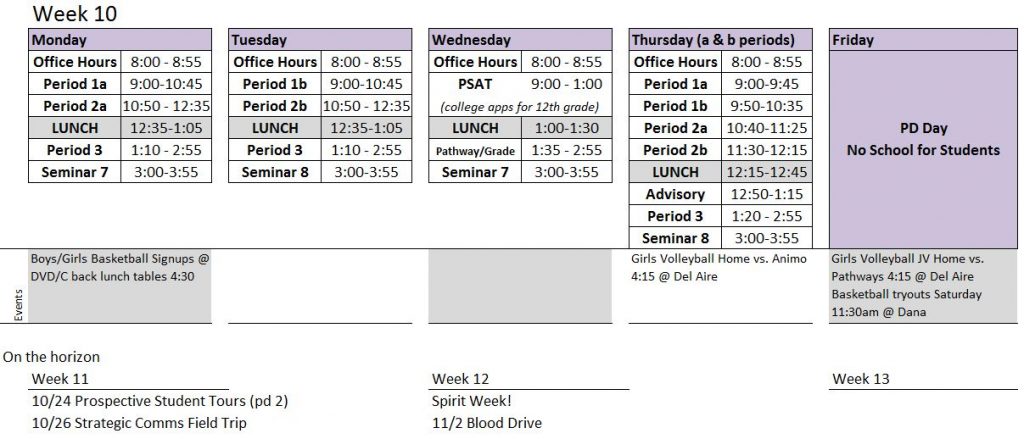 Girls volleyball has their last games these coming weeks, and basketball tryouts are coming up next week. Congratulations to the track team for an amazing season! Thanks to our two coaches – Laura Chase and Noel Ingram – on an excellent year 2 of DV cross country.