Happy Friday, DVC Families!
We've had a great week back at DVC. Thursday's TED Talks by our Class of 2023 were incredible! I was blown away by their preparation, delivery, and message. Kudos to all the hard-working students! We also had a fun day today – kicking things off with Community Dialogue in the gym and enjoying some holiday-themed lunchtime karaoke. Spirit and enthusiasm abound at DVC!
Looking at next week, we have three more days of normal school hours (Monday, Tuesday, & Wednesday – 8:40 – 3:45) and then we begin a shortened day schedule (Thursday & Friday – 8:40 – 1:55) for Presentations of Learning (POLs). This is a different schedule than DVC has done in years past. With this new shortened day schedule, all students are expected to attend school from 8:40am – 1:55pm each day that is scheduled to be a POL day. Please review the details of the week at this schedule: DVC Week 16 Schedule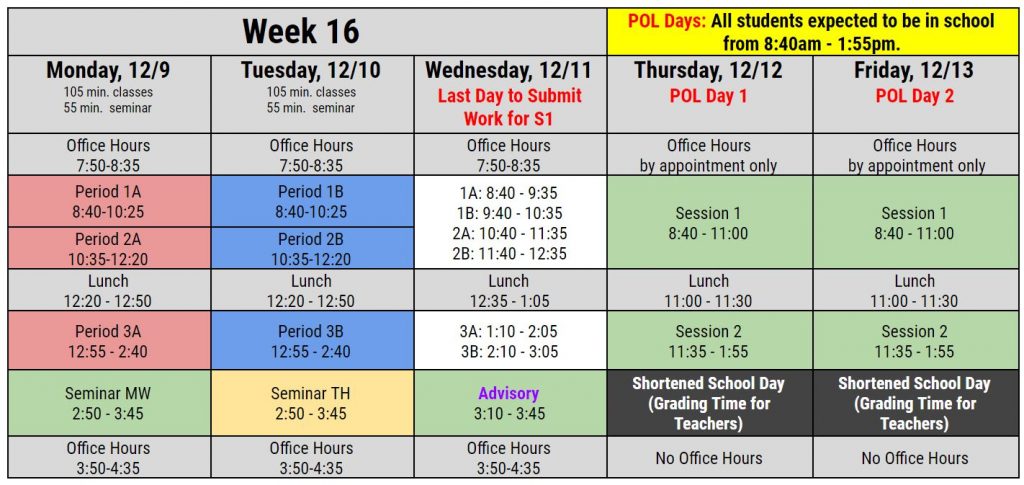 In preparation for POLs, we ask you to open the link below, which contains all of the school-wide policies and procedures related to these special presentations. All students will know the dates and times of their scheduled presentations no later than the end of the day on Monday, December 9th.
DVC POL Details & Policies Fall 2019
We encourage and welcome any parent, guardian, or special guest who would like to watch their student's Presentation of Learning to make arrangements to do so. The students work very hard on these presentations and we love for them to be both encouraged and celebrated by you and your loved ones!
If you have any questions, please reach out to me at edsouza@davincischools.org.
Have a great weekend,
Erin