SLCs – Thank you!
Thank you to all of our families for another successful round of SLCs! We had an incredible turnout with 95% attendance last week, and we should be up to 100% family participation by next week. We could not build the community we have at DVC without your support, and your involvement in student led conferences this week is just one piece of evidence of the great families we have at DVC.
Spirit Week!
Monday – Pajama day
Tuesday – Halloween in March
Wednesday – Wacky Tacky Wednesday
Thursday – Sports
Friday – Colors (9th grade – green, 10th – blue, 11th – red)
Da Vinci Gala – Friday March 11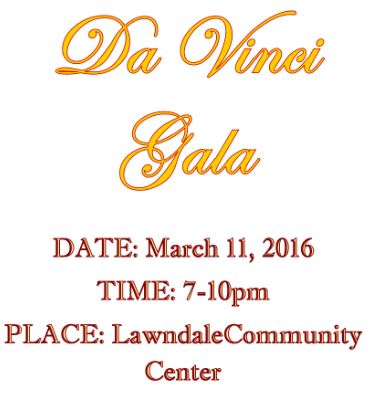 Exhibition – coming up in 3 weeks
Exhibition is coming up on Wednesday, March 23rd, 6pm to 8pm. Students – make sure you have your evenings marked off, and have your great projects and a set of dress clothes to impress.
We are offering ACT prep after schools and on Saturdays. If you are interested, check in with Brittany and see the full details in the flyer.
Career Speaker Workshop – April 22nd (Volunteers wanted!)
Da Vinci Design and Communications is hosting a Career Speaker Workshop on April 22nd from 11:45am – 1:00pm, and we are looking for speakers from a range of industries to come speak to students!  If you or anyone you know is interested, please sign up here: http://goo.gl/forms/GeZlENFXbT.  You will speak to two groups of students for 25 minutes each (see flyer for more information and guiding questions).  Your participation will give students a great glimpse into your career, day to day tasks, and post high school trajectory.  Students would be thrilled to hear from you!  If you have any questions or concerns, please contact Natasha Morse at nmorse@davincischools.org.

Get your service hours at Race for the Cure on March 12th!
See last week's post for details – get those service hours for your betterment as an individual, for the community, and for your advisory grades.
New High School Campus Construction Updates – Subscribe Today!
Get the latest news and updates on our new high school campus delivered to your phone by subscribing to our construction blog at douglasat201.org.
Annual Giving Campaign – Double Your Impact – Deadline March 31
There's never been a better time to support Da Vinci Schools, and every gift makes a difference.  Make an online tax-deductible gift today by clicking on this link: http://www.davincischools.org/makeagift.shtml.