Student Led Conferences are next week! Go to this link for more information about SLCs. Monday-Thursdays are 1:20 dismissal days, and Friday the 15th is a pupil free staff development day.
Service Opportunity – Rock Around the Block. Interested in getting service hours? See this post for more info about helping out at Rock Around the Block.
Career Day:  Da Vinci schools is hosting a Career Day on Tuesday, May 7, 2019, from 110:30 am to 12:30 pm and we need your help.  We are looking for up to 50 panel speakers to share their careers and work experiences with Da Vinci students.  This is a great opportunity to expose our students to a variety of careers.  If you are interested in volunteering as a panel speaker, click on the following link to submit your request signupgenius.com/go/5080A49ABAB22A4FE3-career
Paid Internships – There are still lots of positions available with Snapchat, Hulu, Fox, and more, but we haven't had many current Da Vinci students apply. More information can be found here. We don't want students to miss out on this great opportunity!  Interested students should Complete this google form after they apply to let our Real World Learning Director know so she can put in a good word for them.

On the Horizon:
4/9 DVC Exhibition
4/15-4/19 Spring Break
Congratulations to our March All-Stars! Way to go everyone!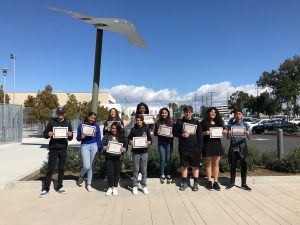 Joined us on Instagram yet? @dvchighschool