Hi DVC Families,
We are excited to begin our new hybrid schedule next week! There is no school for students on Monday, 5/3, and the new schedule begins on Tuesday, 5/4. School will start at 8:40am for all students (both those online and those on campus). This week, Cohort 1 comes on Tuesday and Wednesday, and Cohort 2 comes on Thursday and Friday. You can find all of the weekly schedules for the remainder of the year at this link: DVC Hybrid Schedules (May & June 2021)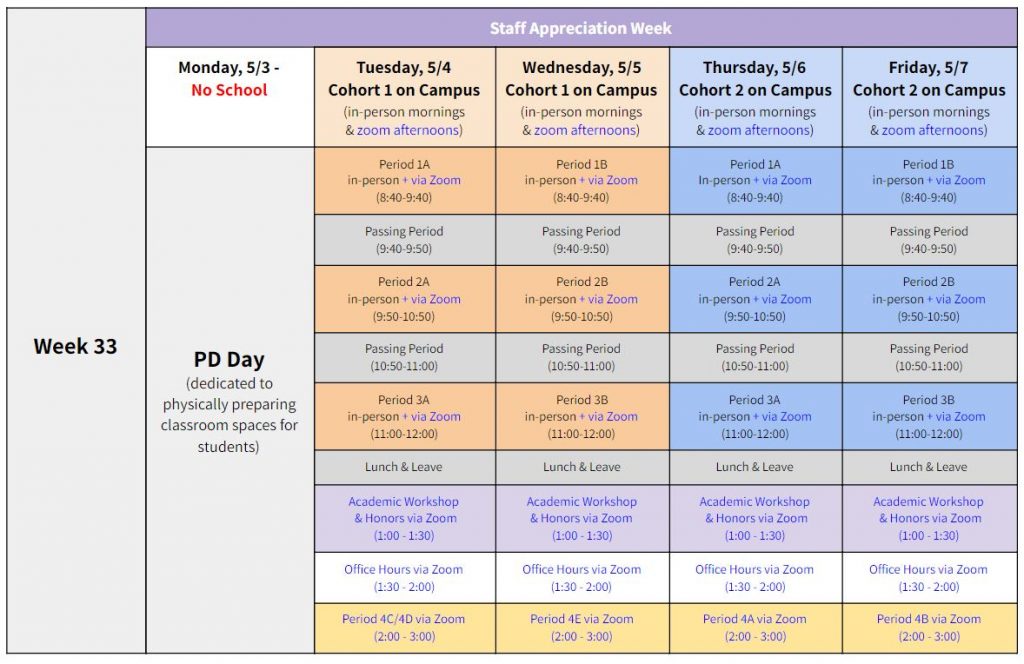 Here are some important upcoming dates:
Monday, 5/3: No School – Professional Development Day
Tuesday, 5/4: Hybrid Schedule Begins; First Day of Cohort 1 on Campus
Thursday, 5/6: First Day of Cohort 2 on Campus
Monday, 5/10: State Testing Begins for 11th Graders
Wednesday, 5/12: 9th Grade Outdoor Activity & School Site Council Meeting
Wednesday, 6/9: DVC Graduation @ 4pm
*Please note that we've had to cancel our 11th Grade Outdoor Activity originally scheduled for 5/5 and 5/6 due to the switch to the hybrid schedule, but we will be rescheduling this event and will keep you updated with the new dates.
And finally, next week is Staff Appreciation Week at DVC! If you'd like to show your appreciation for DVC staff, feel free to drop off snacks to the main office. We will supply a box in the reception area in which you can leave the items. Alternatively, you can have your student bring them to the front office on our school floor. Thank you for your help in showing care and appreciation for our teachers and staff!
Wishing you and your family a healthy weekend,
Erin