Summer Arts Program – Summer Volunteer Opportunity at Da Vinci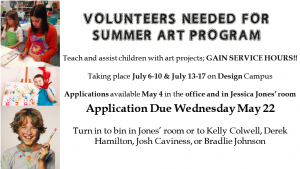 El Segundo Museum of Art
Sunday 2:00pm to 4:00pm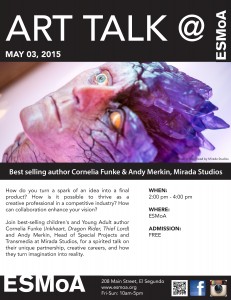 Cornelia Funke, best selling children's and Young Adult author (Inkheart, Thief Lord,  Dragon Rider and more), and named one of TIME Magazine's Top 100 Most Influential People, will be back here discussing her collaboration with Mirada Studios, the production company called Purveyors of Storytelling co-founded by director Guillermo del Toro (Pan's Labyrinth, Hell Boy) and responsible for 2014's most watched music video (Katy Perry's Dark Horse).  She will be joined by Head of Transmedia at Mirada, Andy Merkin, and the two will discuss their creative career trajectories and incredible collaboration.
Ryman Arts offers professional studio art classes with college and career guidance, free of charge, to talented high school students who want to pursue a future in the arts. Students are challenged with rigorous drawing and painting classes and mentored by working artist.
Students can apply or download an application online at www.rymanarts.org/students/apply-ryman-arts
Deadline for our Fall 2015 semester due Friday, May 22, 2015.
Application Materials
General Application Form (completed online or mailed)
Essay (completed online or mailed)
Teacher's Recommendation (completed online or mailed)
Artwork –Two graphite drawings done from observation (Applicants must submit original artwork by mail or hand deliver to our office): Ryman Arts office: 1933 S Broadway, 11th Floor, Suite 1138, Los Angeles, CA 90007
The Ryman Arts program provides 3 ½-hour classes at California State University, Fullerton on Saturdays and Otis College of Art and Design on Sundays for a 12-week session in Spring and Fall. The program includes discussions with visiting artist, drawing field museum field trips and college planning workshops. Each accepted student receives a full scholarship that covers the cost of instruction, art supplies, field trips and public transportation reimbursement.