Hello Wolfpack,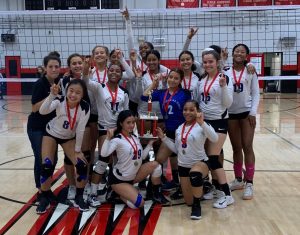 We have some great news. Our Volleyball program is off to a great start this school year. Our Girls JV Volleyball team are now the Artesia Volleyball Tournament Champions. Send your love to our student athletes and awesome coaching staff.
Our next match will be this Tuesday against Animo High School. Game begins at 3:15PM @ Betty Ainsworth Gym in the city of Hawthorne.
On Wednesday we will be playing against Shalhevet at their house. Game begins at 5:30PM.
When possible, come out and support our student athletes. Our student athletes and staff always love seeing the wolfpack in full force. Check out www.maxpreps.com under Wiseburn Da Vinci for our full schedule.
If you missed out on our Cross-Country Tryouts last week, make sure to come out today and meet us at the Fit Box by the gym at 4:00PM with Coach Mar and Coach Jackson. Track Tryouts for boys this Wednesday (Aug 28th) followed by girls' tryouts on Thursday (Aug 29th) at 4:00PM at the FitBox
Make sure to follow us at www.instagram.com/wdvathletics