Look at the college news below, but first a special invitation:
Students and families, we are excited to invite you to TEDxLA this Thursday! Come join members of the DVC family and the creative industries of LA and learn something new:
Thursday, February 11, 4:00pm to 5:00pm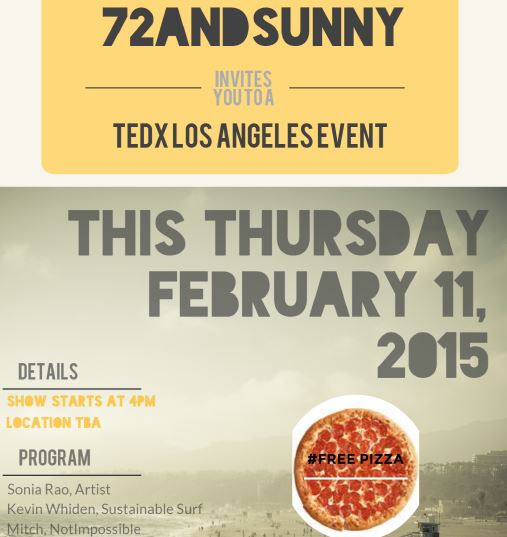 And join us in April at 72andSunny!
Date: Thursday, April 14
Location: 72andSunny, 12101 Bluff Creek Dr, Los Angeles, CA 90094
Adam Szajgin, 72 Creative Director
Michelle Easter, NASA
DVC – we'll see everyone tomorrow for our college field trips! Parents – we encourage you to use this opportunity to talk with your child about their trip before and after to begin (or, even better, continue) the conversation about college and plans after DVC.
College Field Trips – Wednesday 2/10
11th grade: UCLA, arrive by 7:45am. Students will take the culver city bus #6 from DVC to UCLA (only one bus). We will depart from DVC at 8:00 a.m. and will return by 3:00 p.m.
10th grade: UCI and CSU Fullerton, Arrive by 8:15am. We will be taking 2 school buses.
9th grade: Cal Poly Pomona and Claremont McKenna College, arrive by 8:15am. We will be taking 2 school buses.
Art Camp
Want to teach art to elementary students over the summer? Come to Buckner's room (Design room 206) tomorrow (Wednesday) at 4:15pm, after coming back from the college trip.