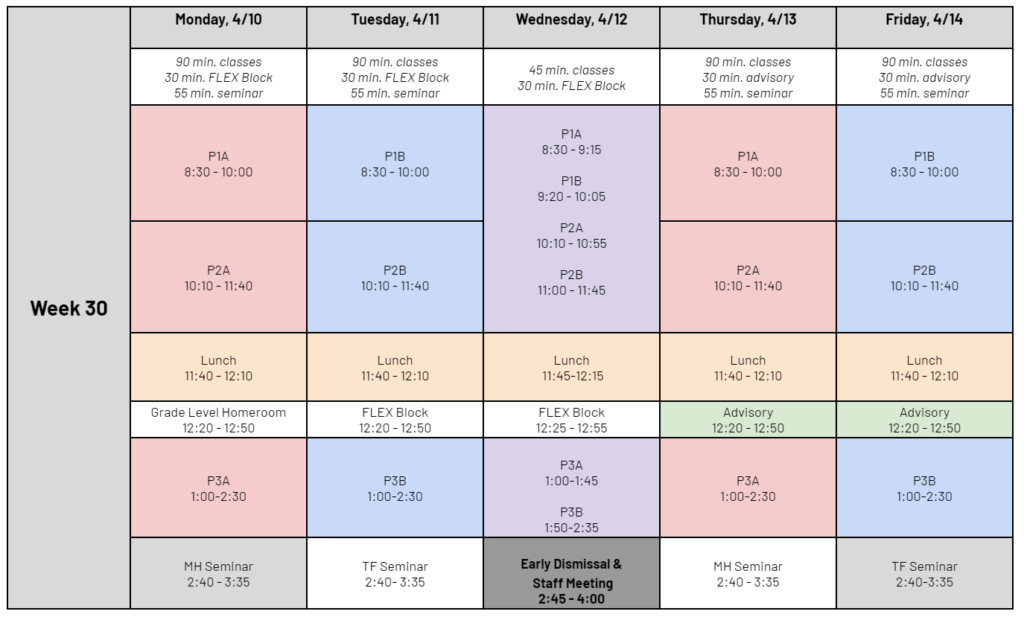 School resumes on Monday, April 10th! There are only 9 weeks remaining in the semester and only 7 weeks before 9th, 10th, & 11th Grade Presentations of Learning (POLs) and 12th Grade Final Exams. There's a lot of learning that will take place in these final weeks, and we're looking forward to finishing the school year strong!
College Field Trip on Wednesday, 4/12  (10th Grade):

Our 10th grade students will be visiting Cal State Fullerton or Loyola Marymount University this week! We are proud to be able to offer students the ability to spend time on a college campus; it helps them envision their future as a college-bound DVC graduate!
Standardized Testing: Please note that there is a lot of testing for grades 9, 10 & 11 in the coming weeks; read below for the details.
The SAT Test @ DVC on Wednesday, 4/12  (11th Grade):

Our 11th grade students will take the SAT on Wednesday, April 12th! DVC is covering the cost of the test for 11th grade students. Though not

all

4-year colleges require SAT scores for admission, there are still many colleges and scholarships that require the submission of SAT or ACT scores. On Wednesday, 4/12, students should bring the following; a snack/drink for their break, an approved calculator (phone calculators not acceptable), and pencils (No. 2 required). If you have questions about the test administration, please contact Andrew Daramola, Assistant Principal (

adaramola@davincischools.org

). 
Physical Fitness Testing on Thursday, 4/13 & Friday, 4/14 (9th Grade):

California requires all 9th grade students to take the Physical Fitness Test. Our 9th grade students will be taking this test during Computer Science classes this week. More information about the test can be found

here

. For questions, please reach out to Andrew Daramola, Assistant Principal (

adaramola@davincischools.org

) or Andy Galbraith, Computer Science Teacher (

agalbraith@davincischools.org

). 
State Testing  (11th Grade):

Our 11th grade students will resume state testing next week. The testing will be done during their classes, with minimal disruption to the daily schedule. These are the remaining weeks for the 11th grade state testing:

California Science Test: Week of 4/17 during Biology classes

California Math Test: Week of 5/1 during US History classes
MAP Testing (9th & 10th Grades):

Da Vinci Schools is using the

NWEA MAP Assessments

to measure student progress and growth throughout the school year (from beginning to end) as well as from school year to school year. We ask students to take this test once during Semester 1 and again during Semester 2. Results are used to inform teachers about student areas of strength and areas for improvement. Our 9th and 10th graders will be taking the MAP assessments during the following weeks:

English-Language Arts MAP Test: Week of 4/17

Mathematics MAP Test: Week of 4/24
Looking forward to welcoming our students back to campus on Monday!
Erin D'Souza, Principal