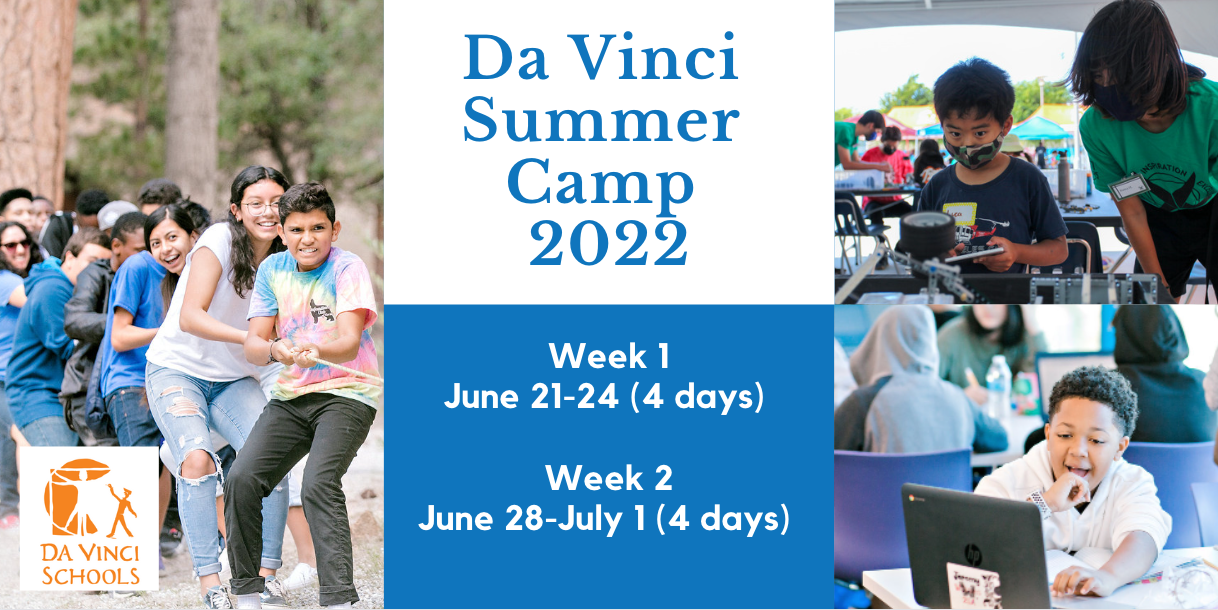 Calling all thinkers, tinkers, creative problem solvers and leaders!
Kick off your summer fun with three exciting in-person camps at Da Vinci Schools in beautiful El Segundo.
This summer, we are proudly offering Robotics, Graphic Design and L.E.A.D. (Leadership, Empowerment, Accountability, Determination) Camps at our campus, located at 201 N. Douglas St., El Segundo, CA 90245. Choose from two separate weeks with AM & PM sessions available. >> Register here: Da Vinci Summer Camp 2022
Week 1:   June 21-24, 2022   (4 days)
Week 2:  June 28-July 1, 2022   (4 days)
Schedule for both 4-day weeks:
Robotics Camp | 9:00 AM to 12:00 PM (entering grades 4-9)
Graphic Design Camp | 9:00AM to 12:00PM (entering grades 6-9)
L.E.A.D. Camp (Leadership, Empowerment, Accountability, Determination)| 12:30-3:30PM (entering grades 6-9)
COST: $200 per 4-day week/per AM or PM session
ROBOTICS CAMP: Campers will learn basic engineering concepts using LEGO Mindstorms, while designing, building, and programming their robots to complete a challenge based on the 2021-22 FIRST Robotics Challenge. Mentored by students on the World Champion Da Vinci Robotics Team, campers will complete a wide-range of robot objectives based on each student's skill level and interest!
GRAPHIC DESIGN CAMP: Campers will be introduced to Adobe Photoshop and develop professional graphic design skills! Each day, students will learn how to use a new Photoshop tool or technique in response to a fun or interesting design challenge. At the end of the camp, students will create a final piece that shows off all their skills.
L.E.A.D. CAMP (Leadership, Empowerment, Accountability, Determination): Campers will develop valuable life skills – leadership, communication, teamwork, goal setting, problem-solving and time management to become great students and people through various team-building activities, games, workshops, and more!
Da Vinci Summer Camp 2022 is open to the general public. Morning campers may be dropped off as early as 8:30AM. All campers must be picked up within 15 minutes of camp ending. Lunch supervision is provided for campers participating in both the AM and PM sessions. **Please complete a separate registration for each child.**
COVID Protocols: Please note that Da Vinci Schools actively follows all federal, state and county guidelines related to the ongoing global COVID-19 pandemic. At this time, masks will be strongly recommended.
> Learn more and register here: Da Vinci Summer Camp 2022
Questions? Email us at info@davincischools.org