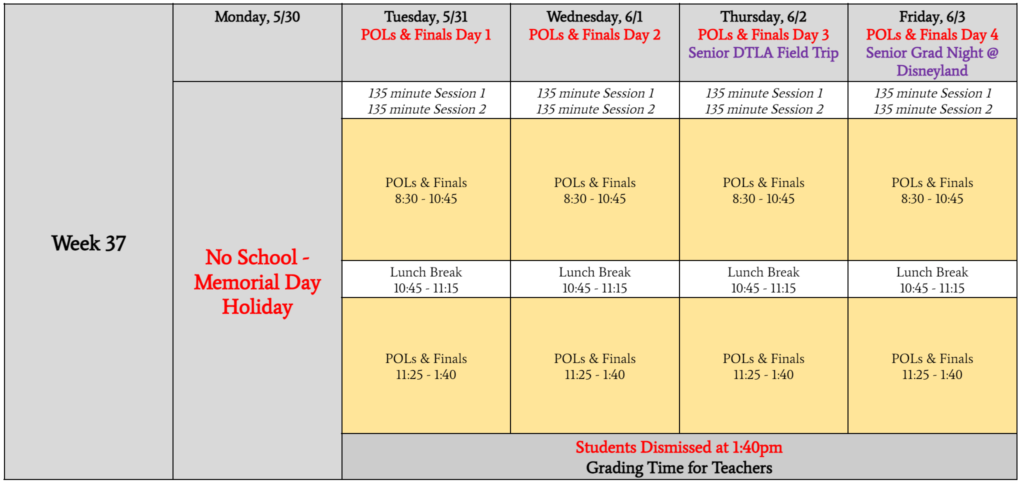 We hope you have a terrific Memorial Day Weekend and wish to extend a special word of gratitude to all those who have served or are currently serving in our country's armed forces. We are grateful for the safety and freedom we enjoy because of your service!
Next week begins Presentations of Learning (POLs) for grades 9, 10, and 11! POLs give students the opportunity to develop their speaking and presentation skills and are an opportunity for students to reflect publicly on their learning. Because these are formal presentations, students are expected to wear formal attire. Our POL days are shortened days with a 1:40pm dismissal time. All students will be dismissed from school at 1:40pm starting on Tuesday, 5/31 and continuing through Wednesday, 6/8 (the last day of school). 
Parents & Guardians:

We also know that Presentations of Learning (POLs) can be a stressful time for students and their families. The two most important things you can do to help your student during their POL is (1) assure them that it is ok to make mistakes and (2) have them practice their POL many times to as many people in your household as possible. And finally, if you are interested in watching your student's POL, please contact their teachers and let them know. We would like to be sure that you don't miss this opportunity. Please note the visitor policy if you p

lan to attend: Visitors to Da Vinci Schools must show proof of either a COVID vaccination or negative PCR/Antigen test (taken within the last 72 hours); masking is strongly recommended. 

Students:

Please know that this presentation is a great opportunity to practice public speaking in front of a live audience. This is an important skill to develop; we ask you to do your best, but we are not expecting perfection. Please practice your presentation for your friends and family as many times as you possibly can. The more you practice, the more confident you will feel on the day of your presentations.
There are a bunch of upcoming events for the Class of 2022! Stay tuned for an email specifically for the Class of 2022 and families with information regarding graduation and more.
In the meantime, here's what's coming up during these final two weeks:
Tuesday, 5/31: POL Schedule Begins: Minimum Days – students dismissed at 1:40pm

Thursday, 6/2: 12th Grade DTLA Field Trip

Friday, 6/3: Disneyland Grad Night (12th Grade)

Monday, 6/6: FUTURES Graduation

Tuesday, 6/7: Senior Awards @ 9:00 & Graduation Practice @ 12:00

Wednesday, 6/8: Last Day of the School Year

Thursday, 6/9: Class of 2022 Graduation @ 11am (Invitation Only)
Sincerely,
Erin D'Souza, Principal