For students interested in exploring cyber security and IT: 
Join the IT Academy Powered by Microsoft! LA-Tech.org has partnered with Microsoft to bring you this incredible opportunity to get PAID while learning, earning certifications, and working with amazing companies like Microsoft. This program is 12 weeks and requires a commitment of 10 to 15 hours a week. You will be required to attend zoom sessions every Tuesday and Thursday with the majority of sessions starting at 4 pm. The priority deadline is Sunday, April 2, 2023. To apply, please click here.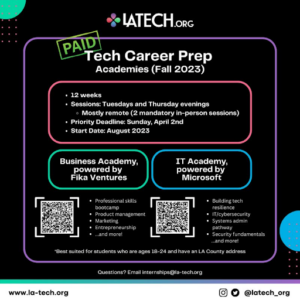 For students interested in business and technology: 
The Fika Tech Career Academy starts in the Fall of 2023. Students will have the opportunity to learn from companies such as Roblox, Snapchat Inc, Facebook, and more. This is a paid opportunity that allows students to build their portfolios with industry-driven projects. Students must be committed to joining virtual sessions every week and comfortable with independent work. The deadline to apply is July 6, 2023. To apply, please click here. 
The Karim Kharbouch Coding Fellowship (KKCF) is cofounded by Hip Hop Artist French Montana and supports youth interested in STEM. Through a 12-month fellowship program, Fellows will complete 80 hours of summer curriculum to prepare them for college, the future of work, and STEM careers, while participating in monthly career workshops throughout the academic year. During the summer months, Fellows will participate in six weeks of summer instruction, then receive monthly career coaching sessions and workshops. Fellows will use industry-standard technologies to learn how to create a brand, understand selling, create a proper wireframe, basic HTML & CSS coding, and more. To learn more, please click here. To sign up for the information session on May 7 at 4 pm, please click here.