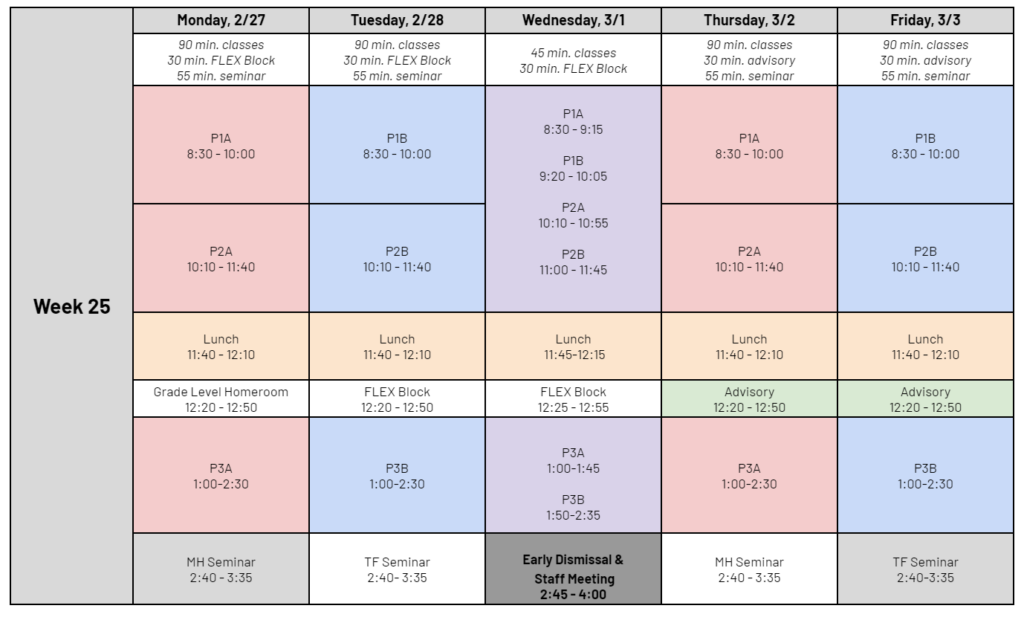 Yesterday we had a beautiful celebration of Black People's Impact on the Arts during our CD led by our Black Student Union! Check out the highlight reel on Instagram. Da Vinci has an active presence on Instagram and we encourage you to follow the following accounts:
@dvchighschool – Instagram for Da Vinci Communications

@dvccounselors – Instagram for Da Vinci Communications Counselors

@davincischools_org – Instagram for Da Vinci Schools
Student-Led Conferences (SLCs) will take place starting Monday, March 13th! It is expected that every student has an SLC with their parent/guardian during this week. An email with a sign-up link will be sent out from the Grade-Level Homeroom Teacher on Monday, February 27th. We encourage families to sign up for our in-person conferences. We are offering three days of in-person conferences and one day of Zoom conferences. Please reserve the virtual (Zoom) conferences for families that have no other option and require a virtual meeting. Here are the general dates and times for our conferences:
IN PERSON, ON CAMPUS SLCs: 
Monday, March 13th from 2:00 – 3:30 PM
Tuesday, March 14th from 2:00 – 3:30 PM
Wednesday, March 15th from 2:00 – 3:30 PM
VIRTUAL THROUGH ZOOM SLCs:
Thursday, March 16h from 2:00 – 3:40 PM
DVC College & Career Webinars: Our DVC counselors hosted College & Career Information Webinars for 10th and 11th grade students and their families. If you missed the presentation, you can watch the recordings using the links below. The 12th grade webinar is scheduled for this Wednesday, March 1st at 5pm and the 9th grade webinar is scheduled for March 7th!
Wednesday, March 1st: 12th Grade College & Career Parent Info Night @ 5pm via Zoom (Meeting Link)
CANVAS Help: Are you having trouble getting access to your student's academic information via Canvas? If yes, please use the following resources for help.
Getting an error code when trying to log in? 
Don't have an account? Haven't made a password yet? 
Can't connect your account to your student? 
Still not working?

If you still cannot access your account, please email Josh Beals in our tech department at

jbeals@davincischools.org

and write "Canvas Support" in the subject line.
Here's what's coming up:
Wednesday, 3/1: 12th Grade College & Career Parent Info Night @ 5pm via Zoom (

Meeting Link

)

Friday, 3/3 – Monday, 3/6: DECA State Career Development Conference Field Trip (Marketing Pathway)

Tuesday, 3/7: 9th Grade College & Career Parent Info Night @ 5pm via Zoom (

Meeting Link

)

Wednesday, 3/8: School Site Council Meeting @ 4:30pm via Zoom (

Meeting Link

) 

Monday, 3/13 – Thursday, 3/16: Student-Led Conferences (minimum days, 1:50pm dismissal)

Friday, 3/17: No School – Staff Development

Thursday, 6/8: DVC Class of 2023 Graduation (1pm start time)