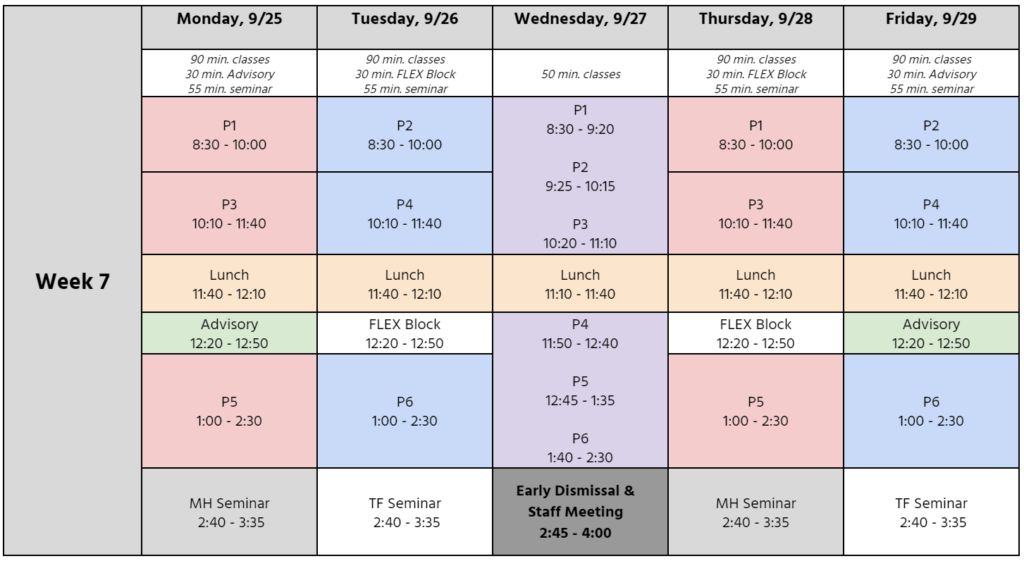 Student-led conferences begin next week! Parents & guardians are expected to attend their student's conference during the week of October 2nd. Students will be dismissed early (at 1:50pm) on Monday, Tuesday, Thursday, and Friday to accommodate the conferences. Wednesday dismissal will remain at 2:30pm. Please be on the lookout for an email with sign-up information. You can also find grade-level information at the following links:
School Photos: Student photos are ready and available for purchase! You can access your student's photo by knowing the last name of their Advisory teacher. Photos can be purchased at this link: https://staceelianna.smugmug.com/DaVinciSchools/DVC-Picture-Day-2023 
Yearbook: Purchase your 23-24 yearbook now before prices increase! You can buy the yearbook at yearbookforever.com by searching for Da Vinci Communications or clicking on this link. 
DECA Fundraiser: Please consider supporting DVC DECA at their Ice Skating Fundraiser at the Toyota Sports Center on Wednesday, September 27th from 2:45pm – 5:00pm. Tickets are $22 and can be purchased on myschoolbucks.com. 
Group Counseling Sessions: Our counseling intern, Ms. Giselle Arellano, is leading a group counseling session on self-esteem. Interested students should sign up here: Group Counseling Session: Self-Esteem 
College Field Trip to Occidental and La Verne: If you are in 11th or 12th grade and you are interested in going to visit Occidental College and the University of La Verne on Tuesday, October 10th, please attend an informational meeting on Monday, 9/25 in Kristina's room (3105) during lunch. Spots are limited for this trip.
PSAT: All 9th, 10th, and 11th grade students will be taking the PSAT on Wednesday, 10/4. This test is paid for by the school and free for DVC students. 
Here's what's coming up:
Wednesday, 9/27: DECA Fundraiser @ Toyota Sports Center

Monday, 10/2: Student-Led Conferences – 1:50pm dismissal

Tuesday, 10/3: Student-Led Conferences – 1:50pm dismissal

Wednesday, 10/4: PSAT Day (9th, 10th, and 11th grades) – 2:30pm dismissal

Thursday, 10/5: Student-Led Conferences – 1:50pm dismissal

Friday, 10/6: Student-Led Conferences – 1:50pm dismissal

Tuesday, 10/10: College Trip to University of La Verne & Occidental (selected 11th & 12th graders)

Thursday, 10/12: Latinx Heritage Month CD

Friday, 10/13: No School – Professional Development Day

Wednesday, 10/18: 10th Grade College Field Trip
Bookmark these links:
Hope you have a great week!
Erin D'Souza, Principal