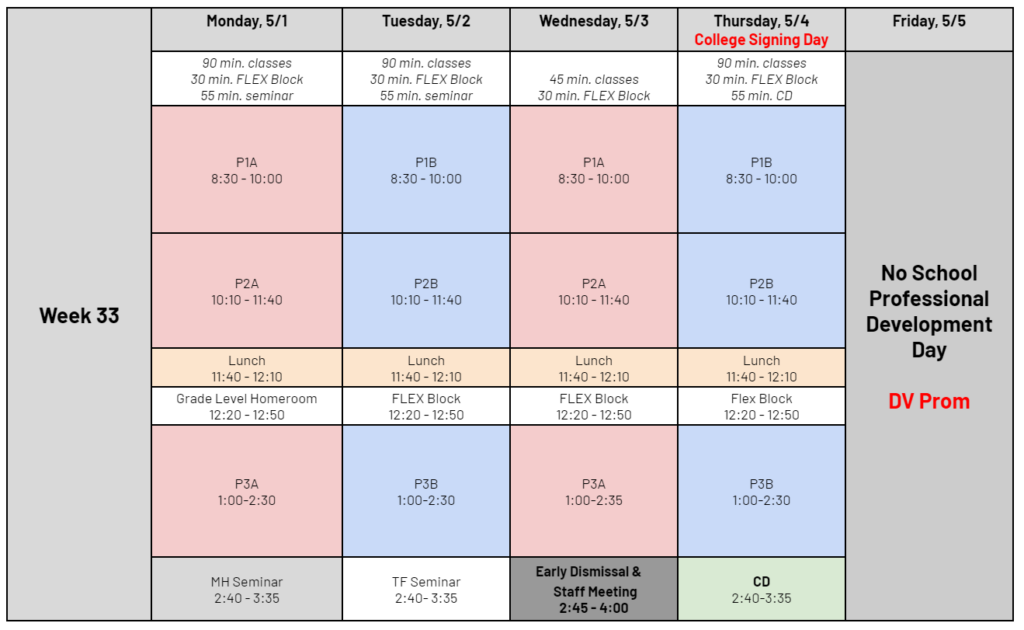 Week 33 is short but exciting! There is no school on Friday, 5/5 due to staff professional development. We have two big events for our seniors this week: (1) College & Career Signing Day on Thursday, 5/4 & (2) Da Vinci Schools Prom on Friday, 5/5!
Last week was also a terrific week, from the visit by State Superintendent Tony Thurmond to Mr. Jackson's Financial Literacy class to the return of our Marketing students from their competition in Florida to the 11th grade trip to the NACAC College Fair to the 12th Grade Computer Science Showcase! We are happy to celebrate the good work of our students and help them explore possibilities for after high school. See some pictures below!
Re-Enrollment: We are asking families to log into their existing SchoolMint account and select RETURNING or NOT RETURNING for the 23-24 school year. This Intent to Return is a one-click process that secures your child's spot for the upcoming school year. Please DO NOT create and submit a new application. If you have any questions, please reach out to enrollment@davincischools.org. 
Tony Thurmond's Visit
Tony Thurmond's Visit
Computer Science Showcase
Computer Science Showcase
Here's a list of what's coming up:
Monday, 5/1 – Thursday, 5/4: Mathematics CAASPP Testing during US History Classes (11th grade)

Tuesday, 5/2: Field Trip to 72andSunny (12th grade- Marketing)

Wednesday, 5/3: Field Trip to Moonwater Farms (Environmental Science Class)

Thursday, 5/4: College & Career Signing Day (12th Grade)

Friday, 5/5: No School Professional Development Day

Friday, 5/5: Da Vinci Schools Prom @ The Proud Bird

Monday, 5/8: Teacher & Staff Appreciation Week Begins

Wednesday, 5/10: School Site Council Meeting @ 5pm on Zoom

Thursday, 5/18: Field Trip to Museum of Tolerance (10th grade)

Wednesday, 5/24: Career Day (11th & 12th Grade)

Thursday, 5/25: Senior Awards Night @ 5pm (by invitation only)

Friday, 5/26: Last Day to Submit Work Required for Graduation

Thursday, 6/8: DVC Class of 2023 Graduation (1pm start time)

Summer School Dates (for credit recovery): Session 1: June 13-June 30 Session 2: July 11-July 27