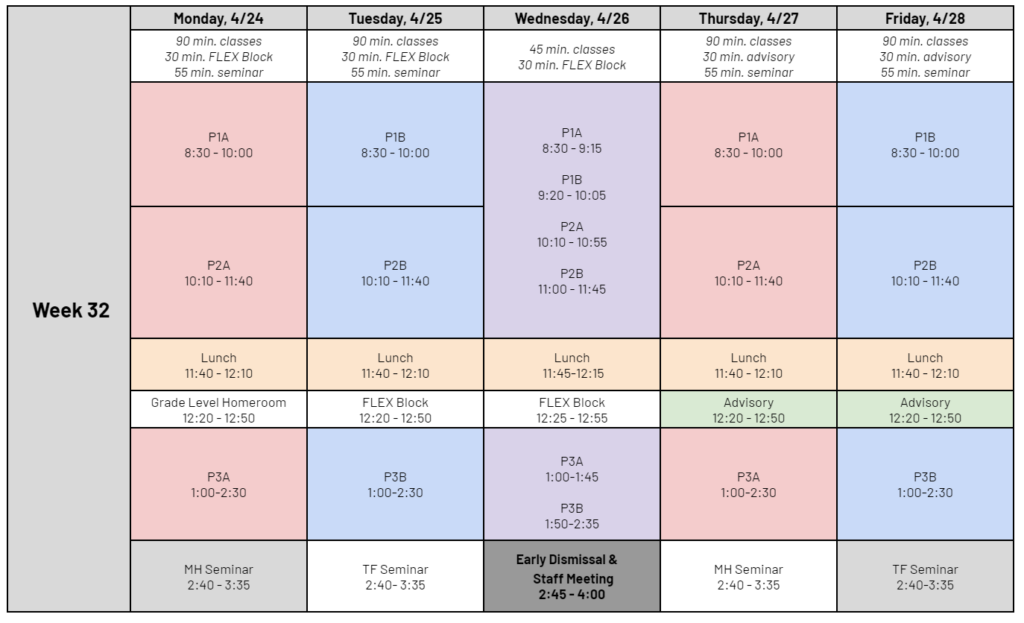 I am thrilled to share that we have a very special visitor on Monday morning: State Superintendent of Public Instruction Tony Thurmond! He will be visiting Mr. Christopher Jackson's 12th Grade Financial Literacy class. State Superintendent Thurmond is choosing to visit DVC because our program is a model of the financial literacy education he hopes to see throughout California. We will be sure to share pictures of this special visit. If you don't already follow @davincischools_org and @dvchighschool on Instagram, please start today!
There are just six weeks left of school before POLs (Presentations of Learning) begin. This is a great time to check grades and make plans for improvement (if needed) before the end of the semester. You can check grades on Canvas or PowerSchool, whichever is easiest for you. If you notice any discrepancies, please let the teacher know right away.
DECA Competition in Orlando, Florida: We have several students competing at the DECA International Career Development Conference in Orlando, Florida. They left on Friday and we wish them all the best in their competition. Seniors Eryn Allen and Hilda Donis qualified to compete in the Entrepreneurship Innovation Plan event (check out their project that won 3rd place at state here!) while juniors Alani Flores, Samantha Guevara and Karina Ruiz have been selected to attend the THRIVE Leadership Academy to build their leadership skills and learn how to take our DECA chapter to the next level. These students will be joining approximately 22,000 high school students, advisors, business professionals and alumni for several days of competition, networking, and fun! Check out @dvcdeca on Instagram to follow their adventures in Orlando! This is the first time that students from DVC have qualified for this competition, and we are so proud of them.
College Visits: Our 11th grade had a terrific time visiting Cal Poly Pomona and Loyola Marymount University. We've had a great time taking students to college campuses this year! This Friday, we take our 11th graders to the NACAC College Fair at the Pasadena Convention Center. 
Here's a list of what's coming up:
Wednesday, 4/26: Field Trip to Homeboy Industries & Olvera Street (Ethnic Studies Class)

Wednesday, 4/26: Computer Science Senior Project Showcase (12th grade)

Friday, 4/28: Field Trip to El Camino College (12th grade)

Friday, 4/28: Field Trip to NACAC College Fair (11th grade)

Monday, 5/1 – Thursday, 5/4: Mathematics CAASPP Testing during US History Classes (11th grade)

Tuesday, 5/2: Field Trip to 72andSunny (12th grade- Marketing)

Wednesday, 5/3: Field Trip to Moonwater Farms (Environmental Science Class)

Thursday, 5/4: College & Career Signing Day (12th Grade)

Friday, 5/5: No School Professional Development Day

Friday, 5/5: Da Vinci Schools Prom @ The Proud Bird

Monday, 5/8: Teacher & Staff Appreciation Week Begins

Wednesday, 5/10: School Site Council Meeting @ 5pm on Zoom

Thursday, 5/18: Field Trip to Museum of Tolerance (10th grade)

Wednesday, 5/24: Career Day (11th & 12th Grade)

Thursday, 5/25: Senior Awards Night @ 5pm (by invitation only)

Friday, 5/26: Last Day to Submit Work Required for Graduation

Thursday, 6/8: DVC Class of 2023 Graduation (1pm start time)

Summer School Dates (for credit recovery): Session 1: June 13-June 30 Session 2: July 11-July 27
DVC Weekly Schedules Year 10 (2022-2023) & DVC Year 10 Planning Calendar (2022-2023)