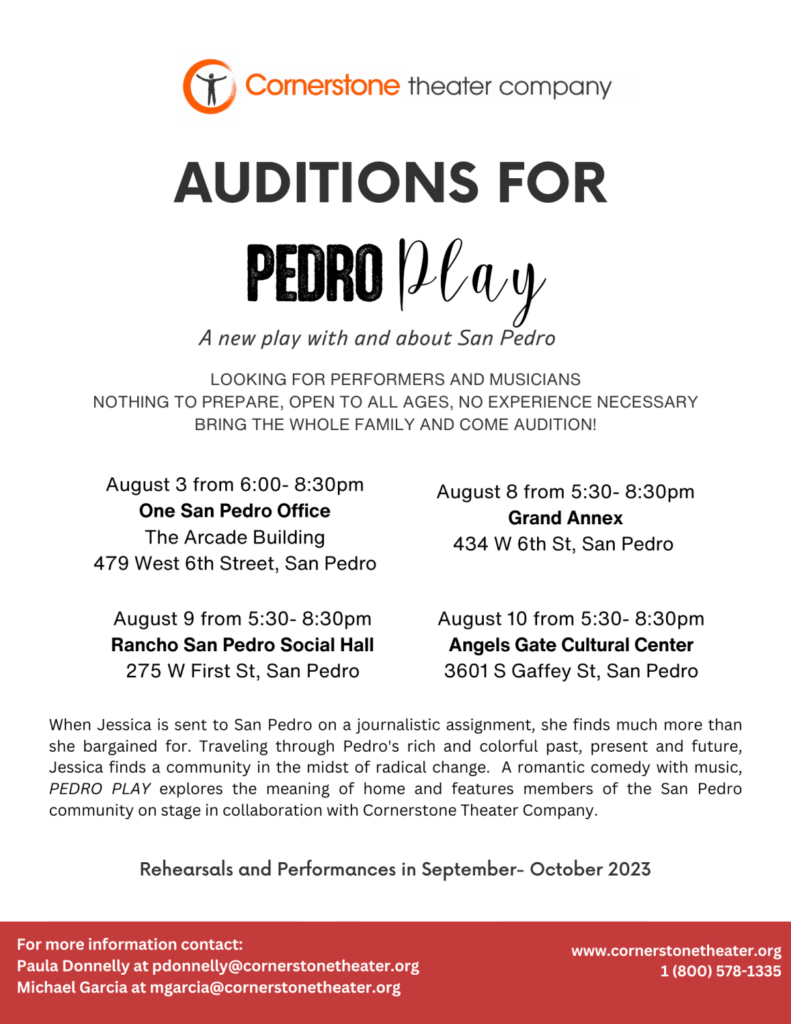 A new play with music, created with and about the San Pedro Community
-Open to all ages
-No experience necessary
-Nothing to prepare
Some audition dates have passed, but there are still auditions being held on 8/9 from 5:30-8:30pm at Rancho San Pedro Social Hall and 8/10 from 5:30-8:30pm at Angels Gate Cultural Center.
For more information, contact:
Paula Donnelly at pdonnelly@cornerstonetheater.org
Michael Garcia at mgarcia@cornerstonetheater.org
Performances will take place in October 2023. See more information below. 
When Jessica is sent to San Pedro on a journalistic assignment, she finds much more than she bargained for. Traveling through Pedro's rich and colorful past, present and future, Jessica finds a community in the midst of radical change. A romantic comedy with music, PEDRO PLAY explores the meaning of home and features members of the San Pedro community on stage in collaboration with Cornerstone Theater Company.
Cornerstone Theater Company is holding auditions for PEDRO PLAY.
Do you live or work or spend significant time in San Pedro?
Are you a former resident who left their heart in San Pedro?
Come audition for PEDRO PLAY!
No theater experience is necessary and there's nothing to prepare.
If you'd like to be a part of making this San Pedro community play, but don't want to be onstage, stop by auditions and introduce yourself. We'd love to meet you!
Rehearsals and performances take place this September and October in San Pedro.
Auditions:
Thursday, August 3, 6:00pm – 8:30pm
One San Pedro Office
The Arcade Building
479 West 6th Street, San Pedro, CA
Tuesday, August 8, 5:30pm – 8:30pm
Grand Annex
434 W Sixth St, San Pedro, CA
Wednesday, August 9, 5:30pm – 8:30pm
Rancho San Pedro Social Hall
275 W First St, San Pedro, CA
Thursday, August 10, 5:30pm – 8:30pm
Angels Gate Cultural Center – Building H
3601 S Gaffey St, San Pedro, CA
Callbacks:
Monday and Tuesday, August 28 and 29, 5:30pm – 8:30pm