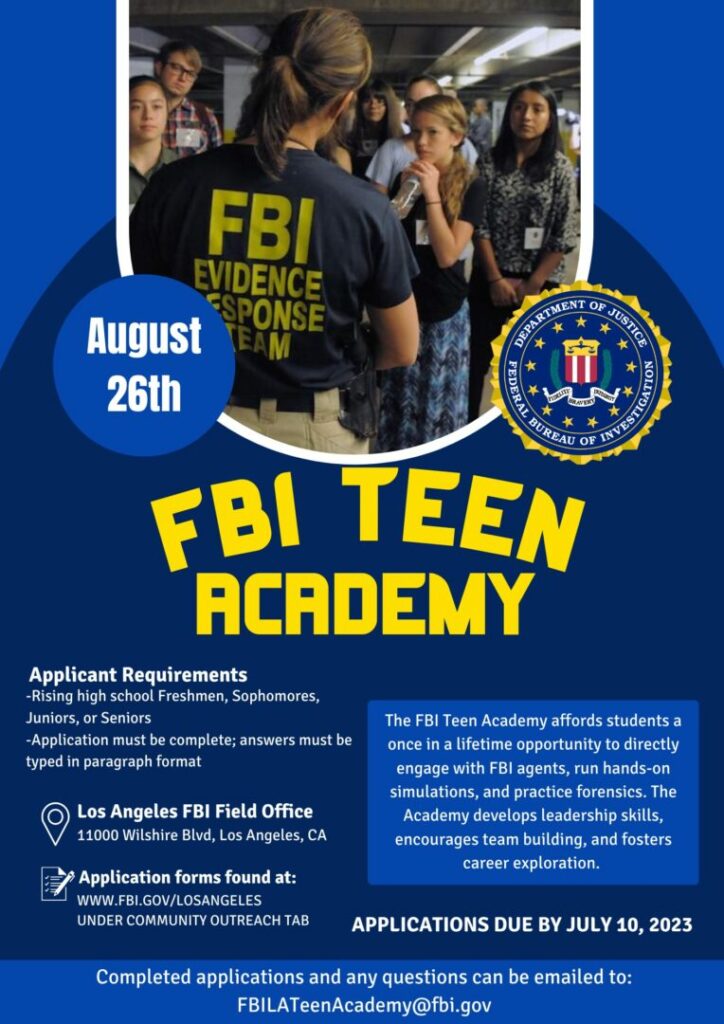 We just learned about an exciting opportunity for students interested in a career in the FBI, cyber crime, forensics, counterintelligence, behavioral analysis, and more.
The next Teen Academy at the FBI Los Angeles Field Office will be on Saturday, August 26, 2023, from 8:00 a.m. to 5:00 p.m. The deadline to apply is tomorrow (July 10). Application forms are available here.
Students will spend a full day with the FBI learning about its role domestically and overseas; the diverse set of criminal violations investigated by the FBI; and career opportunities with the Bureau. Additionally, students will receive technical briefings on cyber security and the importance of making good choices when using online communication platforms. Participants enjoy numerous hands-on experiences with the FBI's Evidence Response Team and Active Shooter Preparedness. Students will graduate from the academy more aware of the challenges facing their communities and better prepared to mentor their peers.
Requirements/How to Apply
High school students in grades 9-12, with a GPA of 3.0 or higher, and residing in the LAFO AOR are welcome to apply. Space is limited to 50 students.
Eligible students can email their completed application (attached) directly to FBILATeenAcademy@fbi.gov. The instructions on how to apply are also here.
Don't miss this awesome opportunity! LA Teen Academy Application