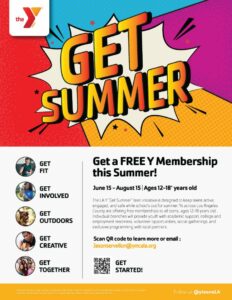 Get a FREE Membership at the Y this Summer! (Click the image for more information)
June 15 – August 15 | Ages 12-18* years old
The LA Y "Get Summer" teen initiative is designed to keep teens active, engaged, and safe while school's out for summer. Ys across Los Angeles County are offering free memberships to all teens, ages 12-18 years old. Individual branches will provide youth with academic support, college and employment readiness, volunteer opportunities, social gatherings, and exclusive programming with local partners.
*Anyone 18 years of age must be a graduating high school student to qualify for a free membership through the Get Summer program. Programs and activities vary by branch. For branch offerings, please contact your local teen director.
If you have any questions please contact Ms. Crissel Rodriguez, Director of Real World Learning, at crodriguez@davincischools.org.