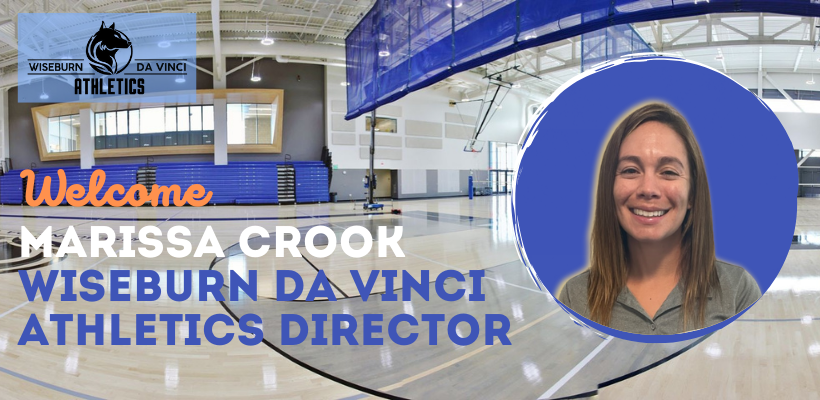 We are excited to announce that Marissa Crook has been named Athletics Director of the Wiseburn Da Vinci Athletics program. Marissa assumed her duties last week.
For the past 12 years Marissa has worked to create and improve Physical Education and Athletic programs at the schools she has served. Marissa brings experience in building athletic teams and programs from the ground floor as an inaugural coach and athletic director. As a former high school and college athlete, Marissa has a passion for providing students with opportunities to thrive in both their academic and athletic endeavors.
Marissa's focus is on building a positive and respectful culture of athletics whose members represent our schools and the WDV Athletics program with pride. "I am excited to be part of Da Vinci Schools and to serve in the Wolves' Athletic Program. I hope to see many student leaders and athletes engaged in the community as exceptional ambassadors of the spirit and dedication of Da Vinci Schools and Athletics."
Marissa is coming at an exciting time for Wiseburn Da Vinci Athletics which moved to the Pioneer League this school year. The new league benefits our student-athletes by providing a more competitive experience, more consistent game schedules, additional team levels, shorter travel times, and more.
Marissa earned her Bachelor's in Kinesiology-Physical Education from Cal State Northridge, a teaching credential from Cal State Bakersfield, and a Master's in Kinesiology from Fresno Pacific University.
Marissa was selected from a pool of 146 candidates. The top three candidates were interviewed by a joint Wiseburn Da Vinci Interview Panel composed of Wiseburn and Da Vinci administrators, Wiseburn community members who are parents with students attending both Wiseburn and Da Vinci schools, student-athletes, and coaches. We are deeply grateful to our panel members, as well as to Wiseburn Superintendent Dr. Blake Silvers for his athletic director expertise and for helping us through this process. We also wish to express our gratitude to Tori Grafeman, WDV Assistant Athletics Director, who did a wonderful job in her role and continues to be a highly valued member of the Da Vinci organization.
Marissa can be reached at mcrook@davincischools.org. Welcome to the pack Marissa! Go Wolves!
For the latest Athletics news and announcements, subscribe to our new WDV Athletics blog at athletics.davincischools.org.