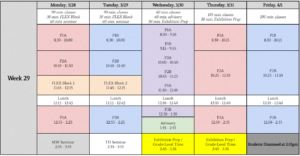 This was a great week at DVC!  Exhibition prep began in rooms across campus for Exhibition Night and we had our monthly CD, with Academic All Stars awarded. In addition, 9th grade students prepped for TED Talks in Ms. Regina's class, 10th grade students refined their research papers in Ms. Flower and Ms. Dani's classes, and 11th grade students completed English CAASPP testing in Hapner's class.  While hearing back from many of the schools in the UC system, Senior students also enjoyed the addition of our new ping pong table in the Senior Common area!  
9th/10th Grade Retreat at Camp Pondo

We are thrilled to be able to bring back the spirit of the "Overnighter" tradition this year with "Camp Retreats" for our 9th and 10th grade students! These will be full-day (but not overnight) retreats at Camp Pondo, with students leaving the Da Vinci campus at 9am and returning at 9pm. The retreats will include a wide variety of recreational and team-building games and activities including a zipline, skate park, climbing wall, and more! Details of the retreats will be coming next week, but for now you can mark the dates in your calendar if you have a 9th or 10th grade student.

The DVC Camp Retreat days are Wednesday, April 20th for 10th graders and Tuesday, May 17th for 9th graders.
CARnival:
This Saturday, 3/26 we have our first ever CARnival Event from 10am – 5pm in our parking lot and on our campus. You and your family are invited and encouraged to attend! Please see this post for details. 
Exhibition Nights:
We are thrilled to open up our doors and welcome you to DVC where students will showcase their projects for families and community members on Monday, April 4th and Tuesday, April 5th! Please note that masks will be required at Exhibition Nights as these are large indoor events with students, families, staff and community stakeholders present. Please see this email for the comprehensive update on masking, and mark your calendars with the dates and times listed below:
Monday, 4/4 for Grades 10 & 12, 5:30pm – 7:00pm
Tuesday, 4/5 for Grades 9 & 11, 5:30pm – 7:00pm
Annual Giving Campaign:
Da Vinci is in the midst of the Annual Giving Campaign! DVC strives to provide an excellent real-world, project-based education to all students that goes above and beyond what students would typically experience in high school. I am excited to share that you can make a contribution that directly supports events and activities at DVC! Please consider donating and selecting Da Vinci Communications as the recipient of your donation. Donations can be made at this link. Thank you for your consideration, support and generosity!
Summer Opportunities:
Thinking about summer plans? Check out this post on our blog about some opportunities available to students this summer!
Career Fair – Volunteers Needed:
We are hosting a Career Fair for students on Thursday, 4/7 and would be grateful if you'd consider volunteering your time. Please see this post for details and sign up here: Career Fair Volunteer Form
State Testing: Each year, our 11th grade students are required to take the California Assessment of Student Performance and Progress (CAASPP). Testing started this week for all 11th grade students and continues through May 5th. If you have any questions, please contact Assistant Principal Andrew Daramola (adaramola@davincischools.org). Here is the schedule for the state testing:
California Alternate Assessment (CAA): March 15 – 18

English-Language Arts: March 17 – March 22

Science (CAST): March 30 – April 1 

Mathematics: May 2 – May 5
Upcoming Events & Calendars: 
Here's a link to all the weekly schedules for the rest of the academic year: DVC Weekly Schedules.  Here's a link to the DVC Semester 2 Calendar. Please note that we update this calendar regularly and make changes as needed.