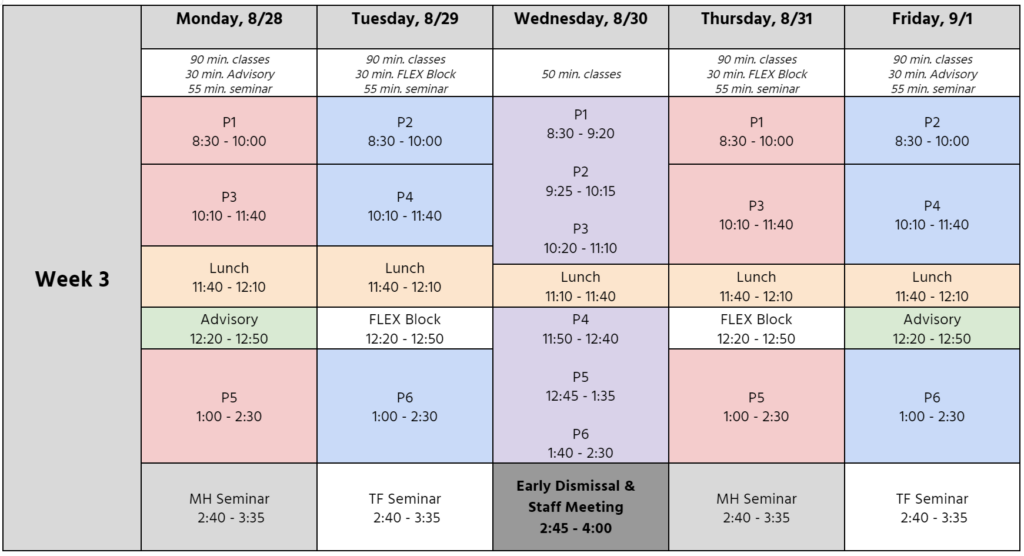 We had a great second week of the school year and a big highlight was our Class of 2027 Overnighter! If you haven't yet watched the slideshow, check it out here: tinyurl.com/overnighter23dvc
Back to School Night: Please mark your calendars for our Back to School Night on September 7th at 5:30pm! You will have an opportunity to meet your student's teachers and be in the classrooms. We encourage you to arrive early to ensure time for parking and picking up your student's schedule. 
Club Applications: Interested in starting or continuing a club at DVC? Please complete this application by Friday, September 1st! 
Tutoring: We are pleased to offer free after school tutoring Mondays through Thursdays! Our tutor, Alex, specializes in math and science, but he is willing to help all students in all subjects. Tutoring will take place in Room 3204 (Rob's room) according to the following schedule:
Monday, 3:35 – 4:30

Tuesday, 3:35 – 4:30 (2 hours of tutoring available on early dismissal Wednesdays)

Wednesday, 2:30 – 4:30

Thursday, 3:35 – 4:30

No tutoring on Fridays
School Supplies: If you are in need of school supplies, please stop by the front desk and we'd be happy to assist you! 
Wednesday Snacks for DVC Staff: We have regular staff collaboration time on Wednesdays from 2:30 – 4:00pm. We are hoping to have 2 families supply snacks/treats for us each Wednesday. We need snacks for about 40 staff members in total, so each family would contribute snacks for about 20 individuals. If you are willing and able to help, please sign up here: Wednesday Snack Sign Up . If you'd like to supply snacks for 40, please sign up for both slots. Thank you!
Schedule Change Requests: Students who wish to make a change to their seminar classes should complete this form: DVC Schedule Change Request Form We will do our best to accommodate as many requests as possible. Please note that the last day to request a change is Friday, September 1st.
Metro Passes: Da Vinci Schools is participating in LA Metro's GoPass Program again this year! This means any DVC student can receive a free Metrocard that, once activated, will allow them to ride on the Metro at no cost until June 30, 2024. Students can pick up a card and instructions to activate their card from Jackie Martinez (jmartinez@davincischools.org) at the DVC Front Desk. Here is more information on the GoPass Program if you are interested.
Here's what's coming up:
Monday, 9/4: No School – Labor Day Holiday 

Thursday, 9/7: Back to School Night @ 5:30pm

Friday, 9/8: Club Fair

Thursday, 9/14: First Schoolwide CD (School Assembly)

Friday, 9/15: No School – Professional Development Day

Saturday, 9/16: Latino College Expo
Please bookmark this school calendar for the most up to date information. 
Wishing you great week 3,
Erin D'Souza, Principal