Permission Slip Packet
All students have received a large permission slip packet, which includes everything from dress code updates to a 72andSunny permission slip. Please return all signed permission slips by Friday (tomorrow)!
Overnighter Permission Slip – DVC 2016 (9th grade only)
Da Vinci Communications Student Handbook 2016-17
Overnighter – Wednesday 8/31 to Thursday 9/1
9th grade students – our DVC overnighter is this coming Wednesday 8/31! We will depart Wednesday morning from DVC (arrive at the normal time, so make sure you plan on getting here a little early), and return Thursday at 4:00pm. Permission slips are in the packet sent home, and payment is due to Jackie or online: http://davincischools.org/overnighter.shtml
If cost is any issue, please just let us know and we will call you about payment plans or other options.
National Honors Society
Da Vinci Communications' chapter of the National Honors Society is opening this year! Our first informational meeting will be Tuesday, August 30th at lunch in Regina's room 106. Check out our website at: http://dvcnhs.weebly.com/
Women's Conference at USC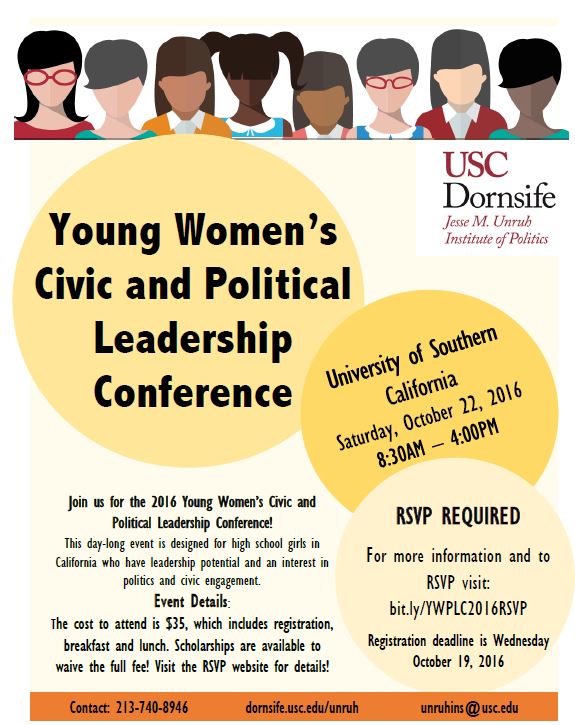 WAM Block Party Volunteer Opportunity
"The first annual WAM Block Party (Westchester Arts and Music) on September 24, closing Emerson Avenue and using it and the garden.  We have a number of bands, food trucks, vendors, kids activities, and such lined up already.  Here is a link to the web site with all the information on the event: http://wamblockparty.org/#wam"
Areas needing help include, but are not limited to, traffic control, kids activities, garden docents, set-up and clean-up. Attached is a flyer to the event if you would like me to print them out and put them around campus.