The HAPenning – Tonight!
Come to see some music, eat some food, and support the wonderful Homeless Assist Program tonight! Tickets are $3.
Parking – Resumption of Normal Activity
Students – you can resume parking in the Del Air lot. Everything regulation-wise is back to normal.
You're A Good Man Charlie Brown! – Thursday 5/19 and Friday 5/20
Come watch our wonderful thespians performing You're a Good Man Charlie Brown the coming Friday May 20. The show is at the DVS Forum this coming Thursday 5/19 at 5:30pm and Friday 5/20 at 7:30pm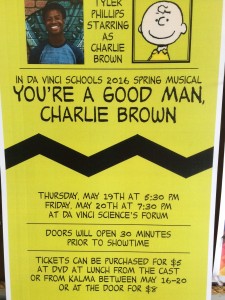 New Student BBQ – Friday May 20
Come meet our incoming 9th grade students this coming Friday, May 20th from 4pm to 5:30pm.