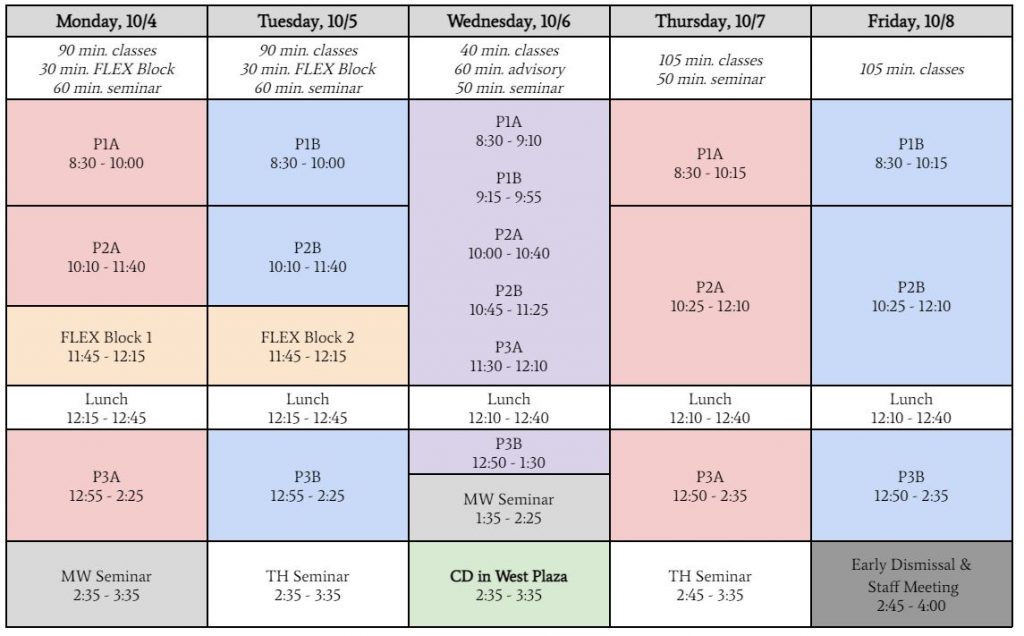 Happy Sunday!
We had a great week this week at DVC! One of the special things that happened this week was a visit from a Lead Character Artist at Santa Monica Studios, Eric Valdes. He spoke to students in one of our Graphic Communications classes on Friday morning. We were thrilled to have him talk to our students about his career!
Looking ahead, we are excited to host our first school-wide assembly (known as "CD") in which we'll highlight Hispanic Heritage Month! This special assembly will take place at the end of the day on Wednesday, October 6th (2:35 – 3:35pm). Please see our schedule for next week for details.
Important notes about Week 9 (next week):
Student-Led Conferences (SLCs): We are looking forward to connecting with our families virtually during Student-Led Conferences. SLCs will take place from Monday, October 11 – Thursday, October 14. On these dates, students will be dismissed from school at 1:25pm. All student-led conferences will be conducted via Zoom. Students will be scheduling conferences with their advisory teacher so that each family gets a personalized experience. It is always our goal to meet with 100% of our families. We appreciate you prioritizing this important conference with your student and your student's advisory teacher. Information about signing up for a student-led conference will be posted on Monday, October 4.
PSAT & SAT Testing for All Students: On Wednesday, October 13, DVC will be administering the PSAT and the SAT on campus for all students (grades 9, 10, 11, and 12). We are happy to be able to provide this opportunity for our students to be college-ready at no cost to our families. 
Please see this week's schedule at this post and also at tinyurl.com/dvcwebsite.
Wishing you good health as we begin the fall season,
Erin D'Souza
Principal