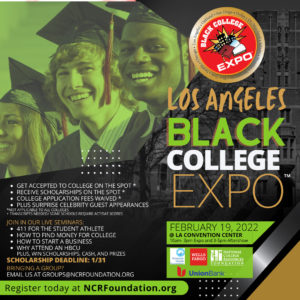 The Black College Expo is back in-person this year!
DVC is interested in transporting a selective number of students to and from the expo on Saturday, February 19, 2022 from 8:30 a.m.- 4:00 p.m.  If your child is interested in attending please fill out this form to reserve their spot no later than February  15th.
https://forms.gle/64BCH5v8v2yqbbUK7
If you are interested in supervising a group of students during  the Black College Expo on the field trip, please fill out this form by February 15th:
https://forms.gle/ntAShfpTFMt1AWJw7
There is NO COST to attend this trip. However, you will need to bring lunch or money for lunch.
The Black College Expo™ is an event that highlights over 50 of the 104 historically black colleges and universities, along with other higher learning institutions and educational services. It is an interactive experience for students to get access to colleges, highlighting HBCUs, historically black colleges and universities, and other educational programs.
Students can get ACCEPTED on the SPOT! College Application FEES Waived, and get SCHOLARSHIPS on the spot.  This event will help high school juniors and seniors looking for a college home,  and college transfer students looking to transfer to a four year college.
This event also serves as a bridge to help college recruiters connect with students looking to go to college. It is also an opportunity for future high school seniors to get connected to a college and get their application fees waived.
Black College Expo is helping students with access to higher education for over 20 years. This event truly helps students connect to college, careers & beyond!  The event is produced by National College Resources Foundation (NCRF), a 501c3 nonprofit organization. NCRF has helped over 500,000 students get into college, and helped students connect with over 1 billion dollars in scholarships and grants.
If you have any questions, or concerns, please feel free to reach out to:
Ms. Artia Thomas
310-725-5800 x3422