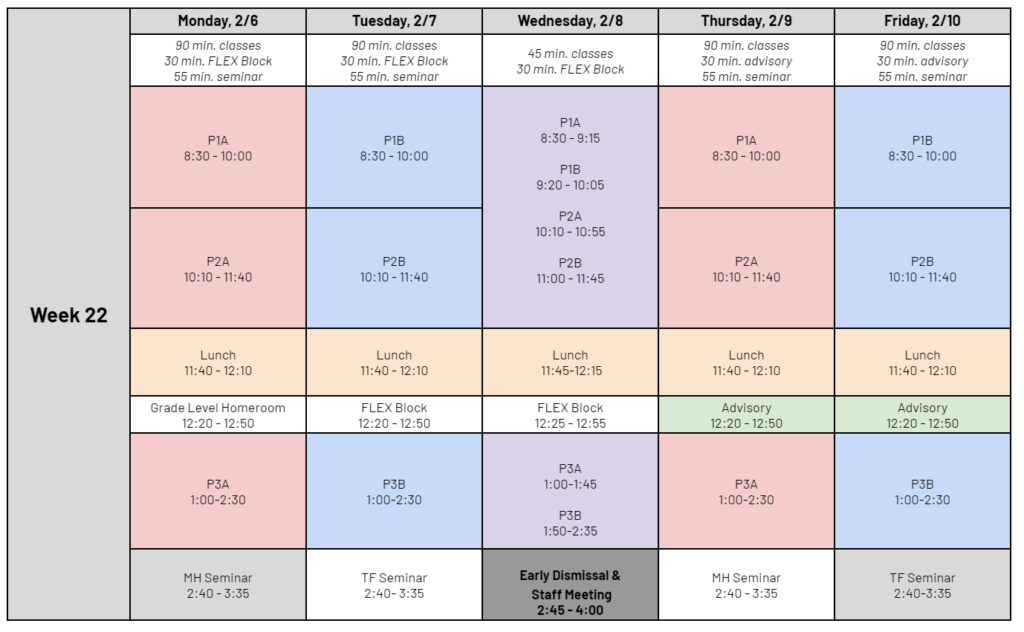 We had a great week at DVC! We had a great kickoff to a rocket launch project in 9th Grade Computer Science and Physics in collaboration with the Aerospace Corporation. A big shoutout to our DVC student athletes, as well, especially our seniors who have been celebrating their senior nights! We see you out there representing our school well and making us proud. 
Week 22 Schedule: We are celebrating National School Counseling Week with some fun themed days!
Monday, 2/6: Wear Your Feelings

Tuesday, 2/7: Wear College Gear

Wednesday, 2/8: Wear Pink

Thursday, 2/9: Wear Sports Gear

Friday, 2/10: Wear Disney
Please consider writing a message of gratitude to our school counselors this week: 
After-School Tutoring: We are thrilled to be able to offer after school tutoring after school on Mondays and Thursdays from 3:35 – 4:35! Our tutor's name is Alex and he is willing to help with anything but specializes in math and science. This is open to all grade-levels; we will let students know the location of the tutoring during  grade-level homeroom on Monday.
Black History Month: Huge thanks to our Black Student Union for creating and implementing lessons and activities in Advisory for the month of February! The decorations around the campus are terrific, too.
Input Requested for Community Schools Grant Application: DVC is applying for a grant and would like to get your feedback! All students and parents are invited to share thoughts on how DVC can improve in the following areas: (1) Integrated Student Supports, (2) Family & Community Engagement, (3) Collaborative Leadership, and (4) Expanded Learning Time & Opportunities. Please join via zoom (Meeting Link)  on Tuesday, 2/7 at 4pm for a brief overview of the grant and an opportunity to give input. 
College & Career Parent Information Nights: Our DVC counselors are hosting a series of webinars about college & career preparation. Please mark your calendars for these virtual events. The webinars will be recorded and made available to families after the event.
Here's what's coming up:
Monday, 2/6: National School Counseling Week Begins

Tuesday, 2/7: Community Schools Grant Application Feedback @ 4pm via Zoom  (

Meeting Link

) 

Monday, 2/13: Red Cross Blood Drive Hosted by DVC National Honor Society (

sign up here

)

Monday, 2/13: Senior Class Photo

Wednesday, 2/15: 11th Grade College & Career Parent Info Night @ 5pm via Zoom (

Meeting Link

)

Monday, 2/20: No School – Presidents' Day

Wednesday, 2/22: 10th Grade College & Career Parent Info Night @ 5pm via Zoom (

Meeting Link

)

Friday, 2/24: Black History Month CD

Wednesday, 3/1: 12th Grade College & Career Parent Info Night @ 5pm via Zoom (

Meeting Link

)

Tuesday, 3/7: 9th Grade College & Career Parent Info Night @ 5pm via Zoom (

Meeting Link

)

Monday, 3/13 – Thursday, 3/16: Student-Led Conferences (minimum days)

Friday, 3/17: No School – Staff Development

Thursday, 6/8: DVC Class of 2023 Graduation (1pm start time)
DVC Weekly Schedules Year 10 (2022-2023) & DVC Year 10 Planning Calendar (2022-2023)